This delicious beet juice recipe will help to cleanse your liver. A beet juice for people who don't like beets!
I am going to tell you something right in the beginning - I can't stand beets....but I DO love this Beet Juice Surprise!
Seriously - whenever I tell anyone that this is my favorite juice, they will usually tell me that I would just LOVE the way they prepare beets.  Nope - not going to happen.  You can roast them, pickle them, saute them....I'm not going to like them!

But I do recognize how good for you beets are and I have been having some health issues that, according to Dr. Google, could be helped with beets (among other things - don't worry -I am seeing a doctor and we are trying to figure everything out!).  Some of you may remember when I did a 10 Day Juice Fast a while ago and one of the juices that I was supposed to drink was beet-based and I just about gagged.
That's why I call this beet juice recipe "Beet Juice Surprise" - because you will be surprised at how much you like it!  The grapefruit and lime do a nice job of cutting the "earthy" flavor of the beets.  I always have a batch of this in my refrigerator (or the ingredients to make a batch).
So why do I call this a liver-cleansing juice (that is also good for your gallbladder)?  Because of what is in it:
Beets & Carrots - both are very high in beta-carotene and plant-flavonoids which (among other things) promote healthy liver function
Grapefruit & Lime - the high amounts of vitamin C and antioxidents help to naturally flush toxins from the liver
Apples - high in pectin, they help to cleanse and release toxins in the digestive tract....making it easier for the liver to do it's job!
This recipe has evolved over time.  When I first started making it, I would only add 1 or 2 small beets (about the size of a golf ball).  These days, I use a beet about the size of a baseball (or the equivalent in smaller beets, depending on what is available).  If you aren't used to the taste, you might want to start with the small beets.  Additionally - make sure to scrub your beets well.  The ones that I buy tend to have a fair amount of dirt on them.
This beet juice recipe will make about 32 oz of juice using my Breville Juice Fountain.  Depending on how good a job your juicer does, you might get a little more or less juice out of it.
You can store the leftovers in the refrigerator for about 2 or 3 days (although I drink it all in 2 days).  Just make sure to give it a stir before you pour it in your glass because it WILL separate!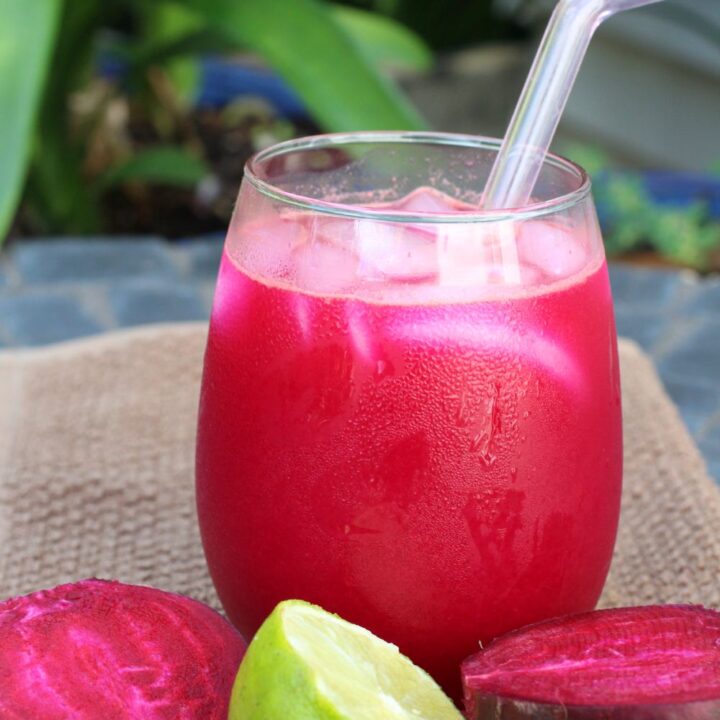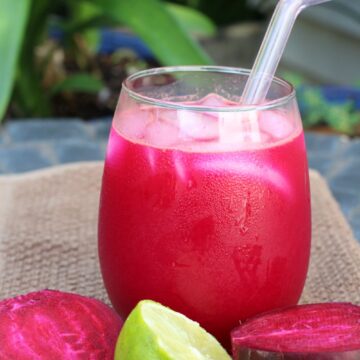 Beet Juice Surprise | Liver Cleansing Juice!
This delicious juice will help to cleanse your liver, thanks to the goodness of beets, carrots, grapefruit and more!
Print
Pin
Ingredients
1

large beet

greens removed and scrubbed well

2

Ruby Red grapefruits

peeled

1

lb

carrots

1/2 - 1

lime

peeled

2

medium gala apples

seeds and stem removed
Instructions
If using a juicer: Process all ingredients through your juicer, per manufacturers instructions

If using a blender: Place all ingredients in the blender with 2 cups of water. Blend and then strain any solids out using a colander or cheesecloth