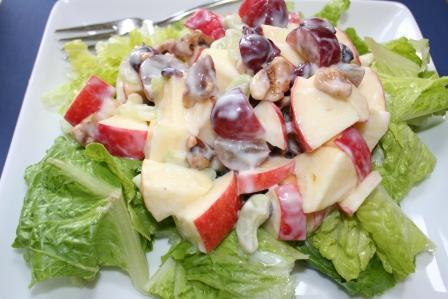 I love a good Waldorf Salad, but I usually only see them at summer picnics. Originally invented as an after-dinner palette cleanser by a chef at the Waldorf Astoria, this salad has seen several additions and variations. The original recipe calls for a mayonnaise base for the dressing, but some people prefer to make it with plain or even vanilla yogurt. I prefer the mayonnaise base, but try it your Waldorf Salad recipe both ways to find your favorite!
Waldorf Salad Recipe
Ingredients:
1/2 cup chopped walnuts
1/2 cup celery, thinly sliced
1/2 cup red seedless grapes, halved
1/3 cup raisins of craisins
2 Gala apples, cored and chopped
4 Tbsp mayonnaise or plain yogurt
1 Tbsp fresh lemon juice
1/2 tsp Salt
Dash Pepper
Romaine Lettuce Leaves
Directions:
In a medium bowl, whisk together mayonnaise (or yogurt), lemon juice, salt & pepper.
Add the apple, celery, grapes, raisins/craisins and walnuts and toss to coat.
Serve on top of a bed of fresh lettuce.
Serves 2