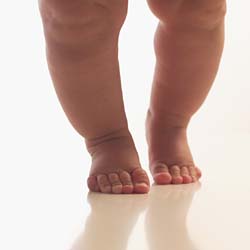 TJo commented on this post, asking how one could build a stockpile when they are on a limited budget.  It's a great question and one that deserves a post of its own!
The first thing that I need to mention is that I did not build my stockpile on my current grocery budget of $50 per week.  It wasn't until I had a nice tidy stockpile that I could reduce my grocery budget to that point.  I am able to replenish my stockpile with that amount, but that is only because the entire process of building it made me an extra-savvy shopper.  If I had to guess, I was spending about $70-$90/week at the time I was building my stockpile.
The second thing:  building a stockpile takes time. My "ready for the war" stockpile took me about 6 months to build. You may only hit one or 2 good deals each week.  But if those deals are good enough and you can find a few each week, you will be in good shape!
The third:  keeping a stockpile is relatively easy.  If you have 10 tubes of toothpaste, you can wait out a few good sales until you find the next great sale where you can get it free or next to free.  No need to rush out and get more.  You will eventually get to a point where you won't even consider buying Crest unless CVS pays you to take it out of the store!
And fourth, please know that some items are easier to stockpile than others.  If you are looking to only stockpile 12 oz. organic juice boxes, it is going to be much harder to stockpile than say, Cocoa Puffs!
Steps to Building Your Stockpile
1.  make sure your coupons are organized.  Not to sound like a dried-up old harpy, but none of this will work without organization.
2.  you need multiple copies of the weekly coupons.  This can be done by buying several copies of the paper (check out this post...see - there was a reason I posted that one yesterday instead of this one!), hitting up friends/family for their inserts (if they don't "do" coupons) or even getting them through a service or eBay.
3.  until you can go through the circulars and easily find the deals yourself, rely on the women listed on this page to help you find the best deals each week at your local store.  While you certainly can try to find the best deals each week, they have done all the work for you.  This list will allow you to save time as well as money!
4.  Go to the store with an "attack plan" and be prepared with alternates.  If you are planning to work a Catalina deal based on 4 boxes of Cheerios and 4 Applesauces in the same deal, you need to have a back-up plan in case they are sold out of Cheerios.  Look at the other items in the Catalina deal and see if you need them.  Even if you don't need them but you can get them close to free and it will make the Catalina deal work, consider getting them anyway and donating them to a local food pantry.
5.  Learn to "work" CVS and Walgreen's, as this is where you are going to score most of your free toiletries, paper products and even many great food deals.  Money Saving Mom has an excellent "CVS 101" post as well as a "Walgreens 101"
6.  Building your stockpile will take a bit more time when you are actually at the store.  I built my stockpile of Kleenex tissues (70 boxes for $12.50...should last me until the end of cold & flu season) by doing them in separate transactions.  When you have a Catalina deal at a store, you can often clean up with free product simply by splitting your transactions and rolling the Catalina (where you do a transaction, get a Catalina and then do another transaction using the Catalina from the first to pay for the second and hopefully getting yet another Catalina.  Continue rolling the Catalinas until you run out of coupons or the store closes).
7.  Resign yourself to some very lopsided shopping trips and some odd looks from other customers.  Buying 18 boxes of Electrasol may seem crazy, but if through a coupon and a sale you are managing to get them for $.58 each, who cares?  You will have your dishwasher detergent for 20% of the regular cost and have enough of a stash to carry you through until you can find another fantastic deal on detergent.  That is your goal!
I hope that this post gives you some ideas on how you can start building your stockpile.  Please don't hesitate to ask if you need me to elaborate on anything!