I really do try to keep most of the recipes that I post on the healthier side, but sometimes you just have to indulge.  If my husband and kids had their way, every dinner would be something like these bacon cheeseburger "totchos"!
Obviously, this is not a meal that you are going to make on a regular basis.  Well, I guess you could, but I definitely wouldn't recommend it unless you can figure out a way to make them a little more healthy (swap out the beef for turkey?  use regular cheddar cheese in place of Velveeta?)
Make sure that you get the tater tots completely cooked and crisp before you start loading them up with toppings and serve these totchos immediately or else the cheese and other toppings will turn the tots in to a soggy mess.
To make these bacon cheeseburger totchos you will need: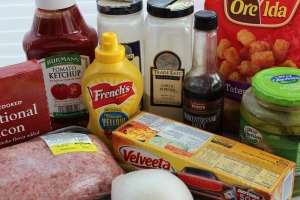 Ingredients:
32 oz Tater Tots
6 oz Velveeta
1 cup Milk
1 lb Ground Beef
1 tsp Worcestershire Sauce
1/4 tsp Onion Powder
1/4 tsp Garlic Powder
1/4 cup Ketchup
1/4 cup Mustard
Pickles
1/4 cup finely diced Onion
6 slices Bacon
Scroll down for complete directions!
You might want to also try these kid friendly recipe ideas: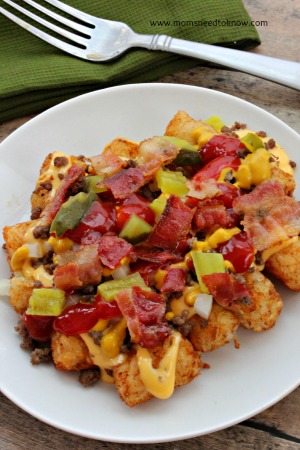 Ingredients
32

oz

Tater Tots

6

oz

Velveeta

1

cup

Milk

1

lb

Ground Beef

1

tsp

Worcestershire Sauce

1/4

tsp

Onion Powder

1/4

tsp

Garlic Powder

1/4

cup

Ketchup

1/4

cup

Mustard

Pickles

diced

1/4

cup

finely diced Onion

6

slices

Bacon
Instructions
Preheat oven to 350.

Bake Tater Tots according to package instructions. making sure that they are nice and crispy.

While the tater tots are baking, cut bacon in to 1" pieces and fry until crispy. In a separate skillet, combine ground beef, worcestershire, onion powder and garlic powder and cook until brown.

Drain grease and from both the bacon and beef mixture and set aside.

In a non-stick saucepan, Velveeta with milk, mixing well until smooth.

Arrange Tater Tots on serving platter.

Pour Velveeta on top.

Spread browned ground beef over cheese.

Top with mustard, ketchup, diced onion, diced pickle and bacon.