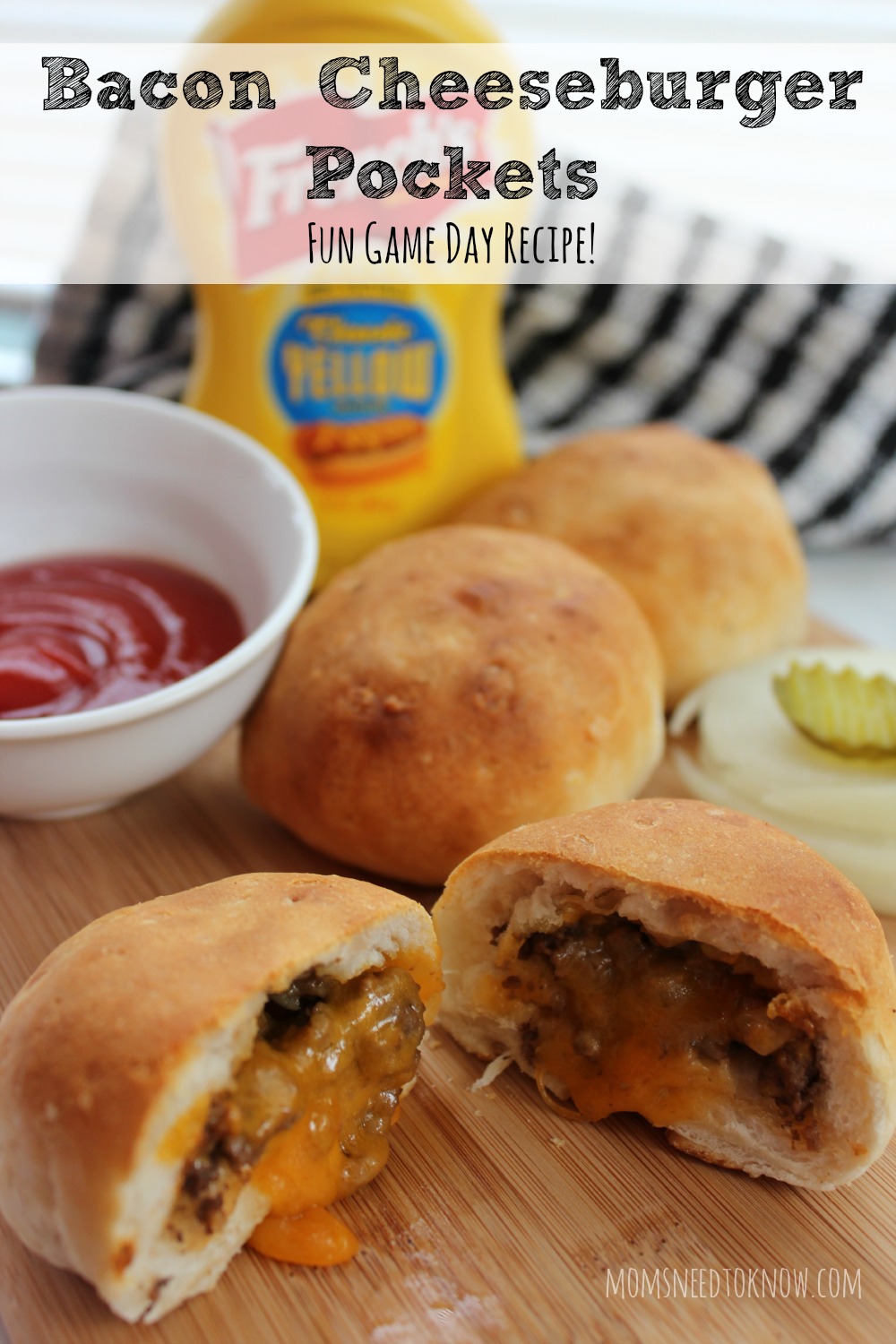 My children and family love the commercial "pocket sandwiches", but I am always looking for healthier alternatives. I made these as bacon cheeseburger pockets, but you can always customize them with your favorite fillings. Maybe some ham & swiss? Chopped up meatballs, a nice homemade pizza sauce recipe and cheese? Get creative with this recipe and your favorite fillings!
This is also a great recipe for the freezer. Simply assemble and cook them. Once they are cooled, stick them in freezer bags and in the freezer. To reheat, you can either microwave them for a minute or stick them in the oven on 350 degrees (thaw them first) until they are heated completely. I actually like to make them and put them in bags of 3 in the freezer.  That way, my husband can just grab a bag on his way to work and pop them in the microwave at work (he keeps ketchup packets in his desk!)
This would be a great recipe for either dinner or as an appetizer for any party (including your Super Bowl party). Just put them out with some bowls of ketchup and mustard for dipping and you will have a fabulous "guy snack"!
Making these bacon cheeseburger pockets is easy.  You will need: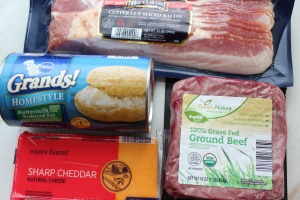 INGREDIENTS
8 pack Pillsbury Grands Biscuits
1/2 lb Ground Beef
1/4 cup chopped Onion
1/2 tsp Garlic Powder
1 tsp Worcestershire sauce
4 slices Bacon cut in small pieces
8 slices Cheddar Cheese
To make them, just fry the bacon and set aside. Brown your ground beef and onions. Drain excess fat. Add the garlic powder and Worcestershire sauce.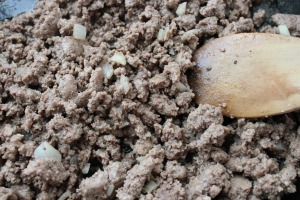 Flatten out a biscuit and layer in the beef mixture, bacon and cheese. Roll up and bake!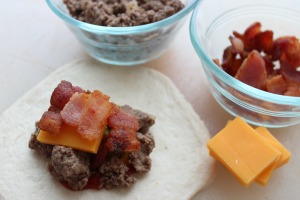 Scroll down for the complete directions!
Make sure to also try these other game day recipes: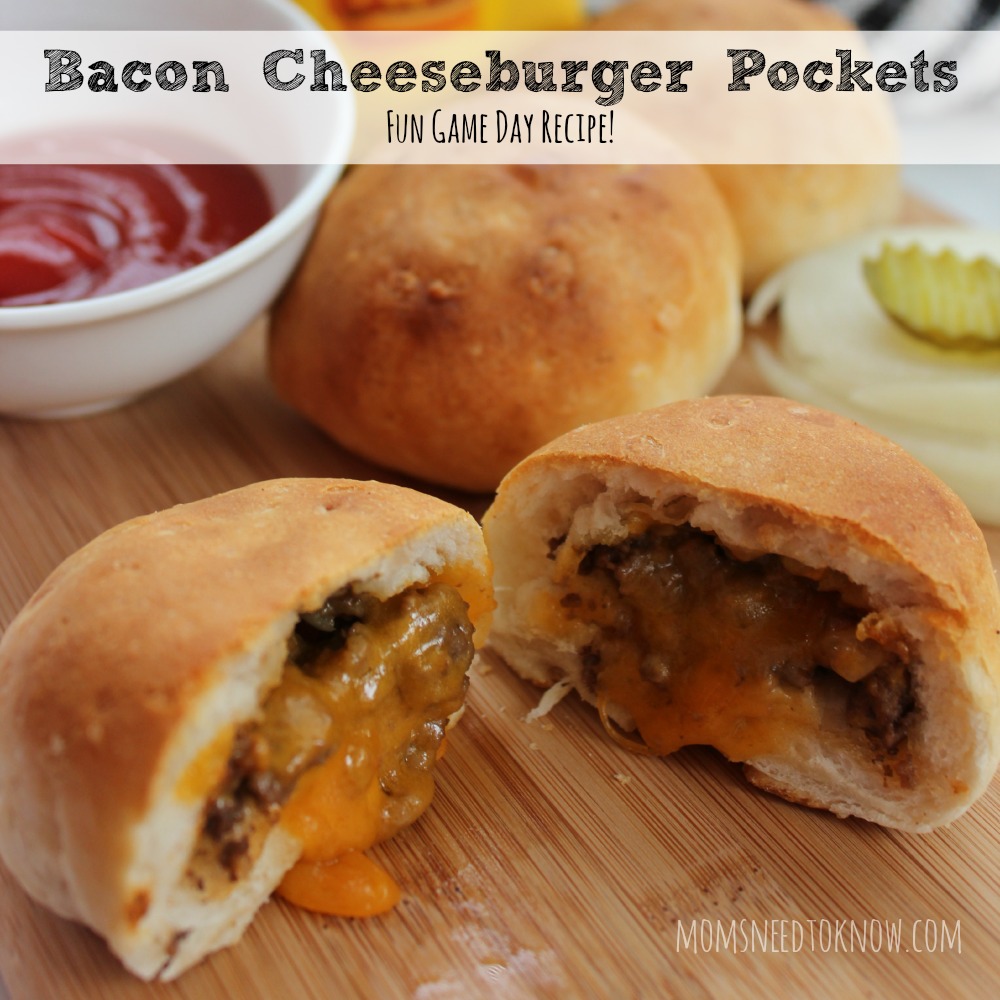 Bacon Cheeseburger Pockets | Game Day Recipe
By Mindi
These easy Bacon Cheeseburger pockets can be made in advance and frozen for when you want to cook them! They make for a fabulous Game Day recipe!
Yield - 8 servings
Preparation Time - 15 minutes
Cooking Time - 15 minutes
Ingredients
8 pack Pillsbury Grands Biscuits

1/2 lb Ground Beef

1/4 cup chopped Onion

1/2 tsp Garlic Powder

1 tsp Worcestershire sauce

4 slices Bacon cut in small pieces

8 slices Cheddar Cheese
Directions
In a medium skillet, cook bacon pieces until crispy and set on paper towel to drain.
Brown ground Beef along with the chopped onion, garlic powder and worcestershire. Drain fat.
Preheat the oven to 425.
Flatten out each biscuit dough and top them with cheddar cheese, browned hamburger pieces and bacon pieces.
Gather the edges of the biscuit dough and stretch and gather up at the top and pinch together to form a seal.
Place onto a greased cookie sheet with the gathered side on the bottom.
Bake at for about 15 minutes or until golden brown.