This baked avocado with egg and bacon is a delicious high protein breakfast to get you off to a good start. Bacon and veggies add texture to the creaminess!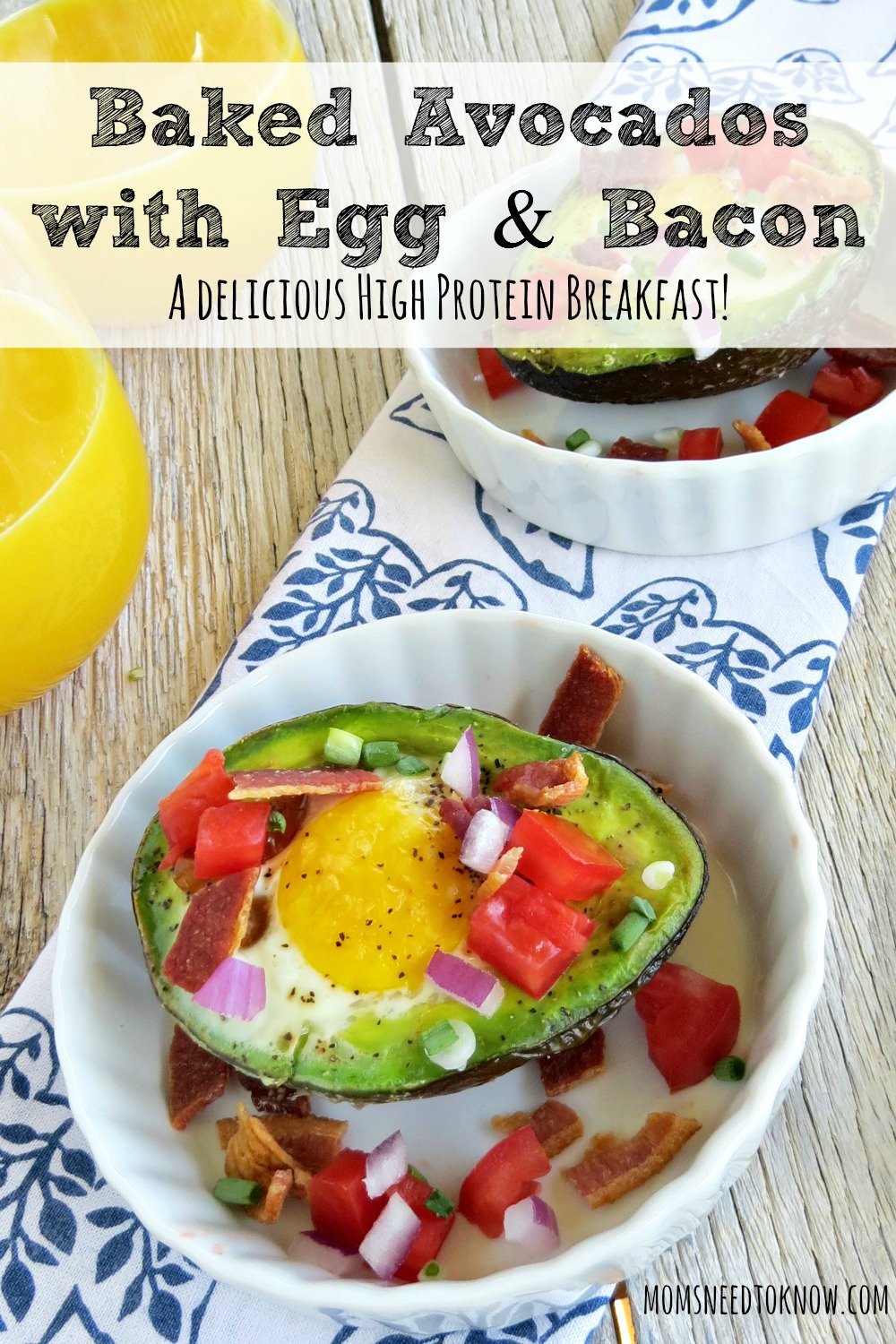 We all know that starting the day off with protein is important for your health.  It will make you more energized and ready to take on the day. Breakfast is especially important because, after a long night's sleep, the body is low on energy, protein, vitamins and minerals. This is where protein is especially important!
I have posted plenty of high protein breakfasts in the past, but this one I just love so stinkin' much because it is skipping gluten, white flour, sugar and everything else that we normally associate with "breakfast foods".

These baked avocados with egg and bacon are the perfect combo of the creamy avocado along with the "goozing" (it's a WORD) of the egg yolk. But then we make it even better! The crispy bacon and veggies add some texture to this, which I think is necessary with the soft, creamy texture of the avocado and egg.
Since I consider it a HUGE pain in the butt to just cook up 4 slices of bacon, I usually cook bacon in the oven about twice a month (and freeze it, once it is cooled) and save it for recipes just like this.  It sure does save time!
Even though the portion size may seem small, this is a very rich, high protein breakfast, so this served four in our house. For larger appetites, serve some toast and/or a side of fruit to really complete the meal (although honestly, just these baked avocados are enough for me!).
It's one of those times when you won't realize how filling this high protein breakfast was until about 25 minutes after you are done eating - so don't overdo it!
To keep the avocado from tilting and causing the eggs to spill out, I line a cupcake pan with foil and use the cups to hold them. You can also use a baking dish small enough so that the avocados fit snuggly and don't roll around.
Finally - a half-teaspoon of salt may seem like a lot, but both the eggs and avocados scream for salt, and we ended up sprinkling on a little more.  Start small and add more if you need it.
Scroll down for the recipe!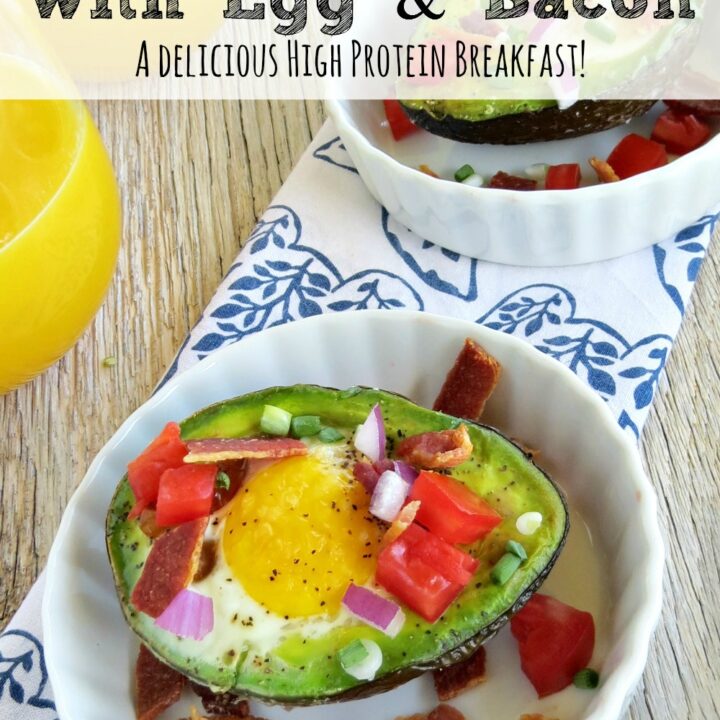 Baked Avocados with Egg and Bacon | A Delicious High Protein Breakfast!
This baked avocado with egg and bacon is a delicious high protein breakfast to get you off to a good start. Bacon and egg add texture the the creaminess!
Print
Pin
Ingredients
2

ripe avocados

4

small eggs

4

slices

bacon

cooked & crumbled

1

plum tomato

seeded and diced

2

tablespoons

red onion

finely diced

1/2

teaspoon

pepper

1/2

teaspoon

salt

2

tablespoons

chopped chives
Instructions
Preheat the oven to 425 degrees F.

Cut each avocado in half and remove the pit.

Scoop out a little of the flesh from the center, so there is enough space to hold the egg.

Place the avocados in a foil-lined baking dish for easy clean up. A cupcake tin is best, because that will prevent the avocados from tipping while cooking

Crack each egg into a small dish. Using your fingers, gently lift out the yolk and place it in the center of the avocado followed with the remaining egg white. Repeat until all four avocados are filled.

Sprinkle with salt and pepper and place the dish in the oven on the middle rack.

Bake for 15 - 25 minutes or until the eggs are set to your liking. We like our whites completely hard and the yolk just slightly runny, so mine were perfect at 20 minutes.

Remove from the oven and cool for five minutes.

Top with the bacon, tomatoes, onions and chives and serve!