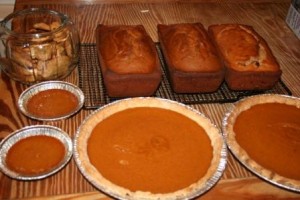 What started as a simple request for 2 pumpkin pies for the Thanksgiving Feast for my sons Kindergarten class turned in to a full-blown baking day.  The bread will be cut in to slices and frozen, allowing me to have easy breakfasts on hand!
Pumpkin Pie: sometimes it is the tried and true recipes that work the best. (the little pies are just the baked custard for the 2 people in his class with a gluten allergy)
Chocolate-Chip Cookies: 8 dozen/double batch (sssh! Don't tell my husband that there are more - the rest are frozen in Ziploc bags so that they aren't all eaten by tomorrow night)
Cranberry Orange Bread: I had some dried cranberries that I wanted to use up and had hit a sale on Orange Juice! I omitted the nuts
Pumpkin Bread:
This recipe is in the cookbook that came with my KitchenAid
3 cups sugar
1 cup vegetable oil (I use applesauce instead)
4 eggs
1 can (16 oz) pumpkin
3 1/2 cups all purpose flour
1 teaspoon baking powder
2 teaspoons baking soda
2 teaspoons salt
1 teaspoon cinnamon
1 teaspoon nutmeg
1 teaspoon allspice
2/3 cup water
1/2 cup chopped walnuts (optional)
Beat together sugar, oil and eggs in bowl.
Add pumpkin, flour, baking powder, soda, salt, cinnamon, nutmeg and allspice. Mix together, Stop and scrape bowl.
Add water & walnuts and mix together another 20 seconds
Pour batter into two greased and floured 9x5x3" loaf pans.
Bake at 350 for 50-60 minutes or until inserted toothpick comes out clean.
Remove from pans and cool on wire racks