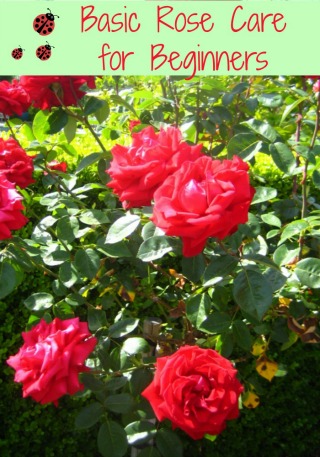 Roses are a beautiful addition to your garden and you want to make sure that you care for them right. There are many different kinds of roses, and many ways to care for them. Find out how to grow roses with this beginner's guide
One of the first flowers I fell in love with were roses. They come in so many colors from bright white to soft pink to fiery red. Roses have one of the most beautiful scents in the flower world. They also come as single open petals or ones that have over a hundred petals that seem to keep opening up for days. Roses are the queen of the garden and can be found in every climate around the world as people want this flower more than any other in their outdoor space. Here are some tips for basic rose care for beginners.
There are a few main types of roses that you can grow: Hybrid tea, Floribunda, Grandiflora, English tea rose, and Miniature roses. Floribunda roses have small flowers that look like elegant hybrid tea blooms, but they appear in clusters instead of one flower per stem. Grandiflora roses blend the best traits of hybrid teas and floribundas and produce elegantly shaped blooms as hybrid teas, but in long-stemmed clusters that continually repeat, like floribundas. Hybrid teas are what you see in floral arrangements and are the showiest blooms with one rose head per stem. English tea roses symbolize heirloom roses and are the most fragrant of all roses and have hundreds of petals and closely resemble peonies – so beautiful! If you are limited on space, try miniature roses as they stay compact and pack a great scent punch and grow similar to Floribundas.
Roses require a lot of potassium to keep blooming all summer long. One trick that is put a banana peel and crushed up egg shells into the planting hole and then feed your roses compost and earthworm castings monthly. Don't forget to add blood and bone meal every 3 weeks during blooming season so that the roses get the proper fertilization that they so desperately need.
Roses prefer to be in evenly moist soil and can tolerate being dried out slightly but will revolt if they have soggy roots. If planting in a container make sure there are 3-4 drainage holes and water very well. Roses are heat loving plants and thrive even when it is over 90 degrees out.
A couple things to look for though with roses are whether their leaves are turning yellow or if they are having disease issues. If the tips of the leaves are yellow that means there is too much salt around the roots and this is in direct relationship to your watering style. Water long and slow instead of blasting a ton of water at one time. If the leaves get a white powder on them this is powdery mildew and you will want to grab an organic fungal remover and spray on the plants. If your roses get aphids, white flies, or spider mites, buy either an organic pesticide or make one at home and spray underneath the leaves, on top and on the soil to eradicate the little buggers.
The last thing with basic rose care is to remove old dead blooms. When the stems turn completely brown, you can pop those off or use pruners to remove them. To get roses to bloom faster, you will want to deadhead weekly and prune the plant after blooming season. Enjoy your new rose or plant an entire rose garden to get your fix of this amazing flower.
You might also want to try out these other gardening tips: