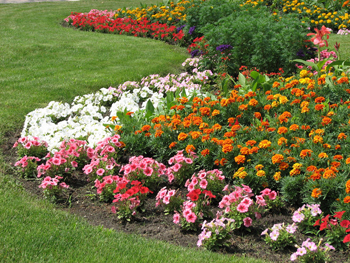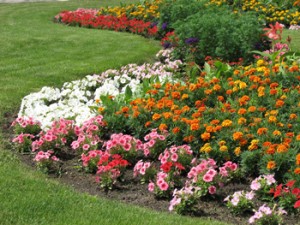 The following is a guest post.  Lean more about how you can submit a guest post to Moms Need To Know
If you have a spot for a flowerbed but are overwhelmed by the amount of weeds and debris that currently resides in it, find comfort in knowing that you can turn that little spot of land into a beautiful flowerbed in a few short hours.
What you will need:
Garden Hoe and/or Shovel
Garden Soil (mulch and/or compost will also work)
Crops, plants, or flowers of your choice
Drip Irrigation Supplies: One Drip Manifold, 10-50 feet of Drip Line (depending on size of flowerbed), Drip Tees, and Drip Stakes (optional)
Topsoil
Wheelbarrow (optional)
Step 1: Prepare the Soil
Beginning this project is going to be the hardest part.
Start by clearing the weeds. If you are dealing with a lot of weeds, it can be a little tough to convince yourself that you are going to spend the next little while on your hands and knees, in the dirt, pulling weeds. But once you get started it's really not that bad. Pull as many as you can by hand, but don't worry too much about the little tiny ones.
Loosen the soil with a garden hoe and/or shovel. This is especially important if you are in an area that has a lot of clay. When unattended, clay can become very compact, almost like concrete. You don't want to plant your flowers or crops in hard dirt. As you turn the dirt over, watch for any loose weeds, rocks, and other debris and remove them.
One way of doing this is to shovel a few scoops out at a time and put it into a wheelbarrow. Run your hands through the dirt a few times, breaking up any clumps and removing weeds and rocks. Then return the dirt back to the flowerbed, and repeat with another section of the bed.
Once the dirt is nice and loose, you're ready to move onto the next step.
Step 2: Add Soil Amendments
The hard part is over. Once the flowerbed is clear of weeds and debris and is good and loose, you're ready to amend it with soil, compost, and/or mulch. A bag of MiracleGro from Wal Mart will do the trick.
Spread enough of the garden soil on top of the dirt until it is about 1 inch thick. Then take your hoe or shovel and mix it into the dirt really well. Keep watching for weeds and debris. You want to get all the weed roots out that you can so that hopefully you won't have to deal with a ton of weeds later on.
Step 3: Plant
By this point, the dirt should be looking more like soil and you should be able to run your fingers through it. This next part is the funnest. Place the plants you picked out from your local nursery on the surface of the flowerbed and organize them into the spots that they will be planted. It's always good to get a bird's eye view before you start planting so that you don't regret any previous placement. Remember to give each plant enough space to grow and to thrive.
You are now ready to dig your holes, add some MiracleGro beads and bury the roots. Pat down the soil around the plants really well. Generously add your Topsoil to the surface of the soil with a shovel or by hand.
If you have an automatic irrigation system hooked up near your flowerbed, you will want to install the drip irrigation manifold before you apply the top soil. If there is a sprinkler head designated to the watering of the flowerbed, it is always better to use a drip system because the water is fed directly to your plants and you do not waste water to run-off, over-spray, or evaporation.
Replace the sprinkler head with a drip irrigation manifold and attach your drip line. Most drip manifolds allow for up to 8+ drip line attachments. It's important that you use more than one main drip line for your flowerbed because of water pressure. You can see an example of here.
If you don't want to deal with the automatic drip irrigation system, by no means is it required. You can always water your plants by hand if you don't have access to an underground automatic sprinkler system.
About the Author: Nate Armstrong enjoys digging around in the garden and getting involved in various outdoor projects. Nate uses Orbit Sprinkler Parts because quality is important. Follow Nate on Twitter and Google+ for more DIY projects.