Whether you are heading out to a party or just want a great juice for cleansing and detox, this ginger pear juice should be in your detox juicing routine!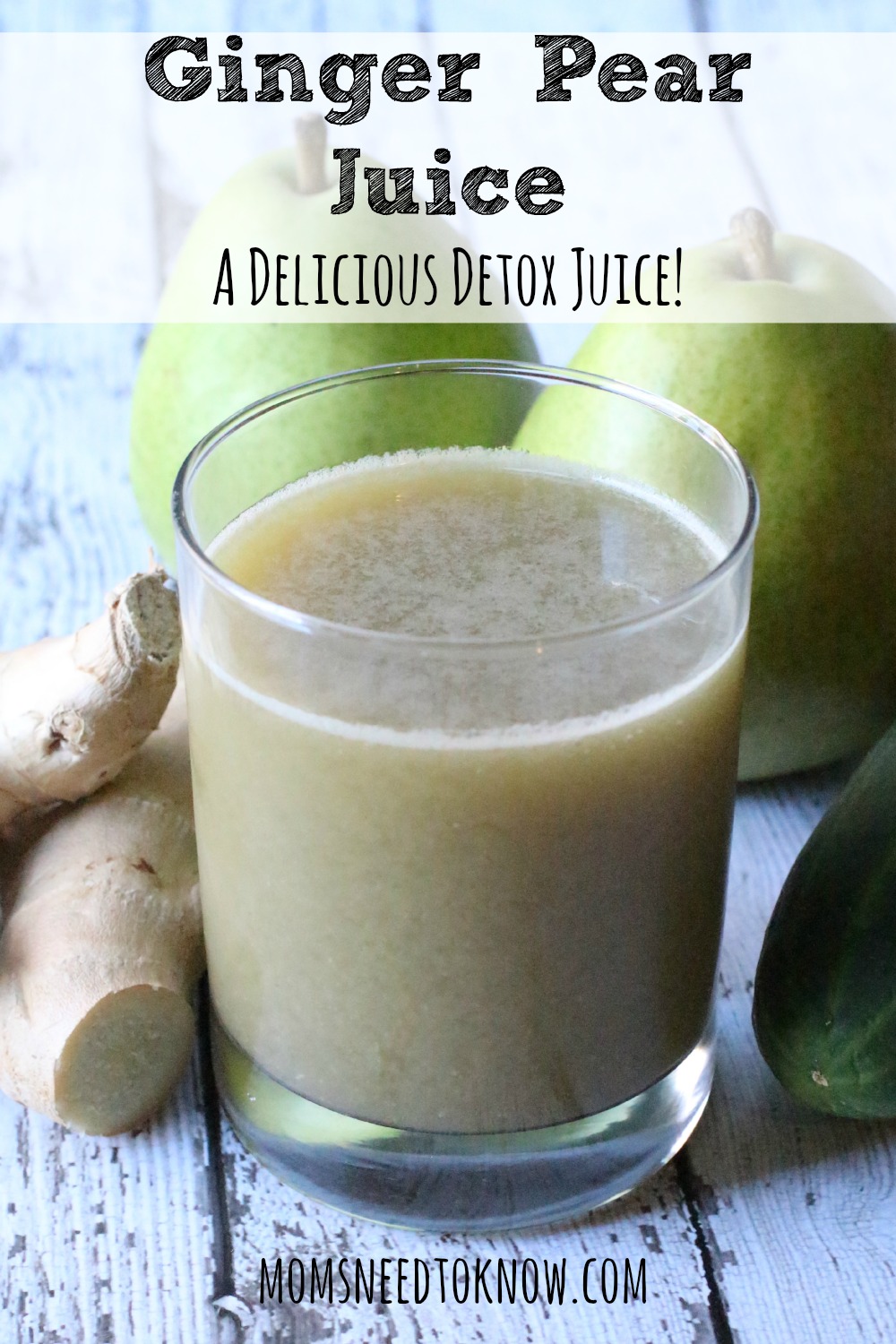 As we head in to the holidays, many people find themselves drinking a little more than normal. From the parties at work, with your friends, brunches, Thanksgiving/Christmas/New Years dinners, there are more glasses being passed and you don't want to be facing a hangover!
Of course, you should always drink responsibly and I am NOT giving you this recipe as an excuse to drink more...and you should NEVER drink and drive (did I include all the disclaimers?)....but it might be helpful for those of you who might over-indulge at this time of year!

I love juicing for so many reasons, but mainly because it allows me to get lots of nutrients in to my body very quickly. As I have mentioned several times, I have been having some "digestive issues" for the past year and, despite having a bunch of tests, we still haven't figured anything out yet.
That is why I rely on juicing to keep me healthy until we can get a "handle" on what is wrong. As I juice more and more, I am learning more about what fruits and vegetables are best to support which systems in your body (that is why I always make sure to have my liver-cleansing beet juice on hand - because we think that my medical problems are either my liver or gallbladder, although I pass both those tests)
Anyway, while pear juice is now thought to be an effective way to prevent a hangover (as long as you drink it BEFORE you start drinking alcohol), the other ingredients in this Ginger Pear Detox Juice can also help you with that hangover - both before and after you drink!
Just a note: if you find yourself "needing" this juice on a regular basis, you might want to cut back on your drinking. I'm just saying...
Benefits of Ginger Pear Juice
Pears (Asian pears are best if you are looking to avoid a hangover): act as an anti-inflammatory and can help reduce alcohol absorption rate (if you drink it BEFORE alcohol). Additionally, pears can help lower cholesterol and help relieve constipation
Cucumber: An excellent source of Vitamin K, calcium, potassium and copper, cucumber juice will boost your hydration, help to flush out toxins and help with digestion
Ginger: Along with pears, it is an anti-inflammatory (which can help you with that "morning after puffiness") that also helps with digestion and migraines. It can even help to lower your blood pressure and cholesterol.
Lemon: a source of Vitamin C, lemon juice can help jump-start your digestive system, reduce nausea, boost your immune system and help to remove toxins in your body!
This Ginger Pear Detox Juice should make 2 - 3 servings (depending on how good your juicer is), so you should have plenty to drink both before you go out, as well as the next morning!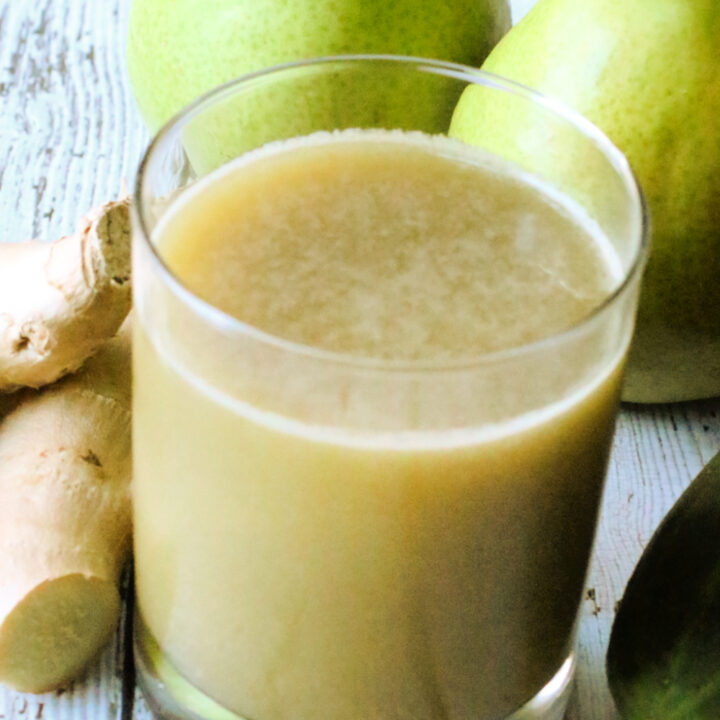 Ginger Pear Detox Juice | Best Hangover Cure
Whether you are heading out to a party or just want a great juice for cleansing and detox, this ginger pear detox juice should be in your juicing routine!
Print
Pin
Ingredients
1

large cucumber

3

large pears

Asian pears are best: quartered, stem and seeds removed

1

lemon

peeled

2

"

piece of fresh ginger, peeled

more to taste
Instructions
Process all ingredients in your juicer, according to manufacturers instructions