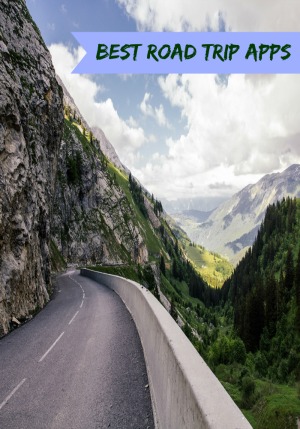 Heading out on the open road is a time honored tradition either to escape to nature or just to cross this great country of ours. One of the best things about all the new apps on the market are those that are devoted to road trips. Just think – you need to pee and want to know if you can make it to the next rest stop. USA Rest Stop lists out every rest stop on every state and national highway! Want to camp in state park as you are crossing across Colorado? Check out Oh, Ranger that lists all campsites, state and national parks, and attractions and tells you what you can expect at each location with a link back to where you can get more info.
In addition to the apps that you are going to want to keep you entertained while on your road trip, here are four awesome apps for a road trip that will make your trip easier!
GasBuddy. If you haven't used this app yet, don't wait. Anytime your car is close to empty, open this app, click the big Find Gas Near Me button and it will load gas stations in a 50-mile radius. You can sort by price or distance or look at in a map view. GasBuddy initially loads sorted by distance and with the last data that you searched. Refresh the app and it pulls up all the gas stations near you.
USA Rest Stop. This app lists out all the rest stops in the US based either by State, Map, or Highway. Select which state and highway your on and it shows the rest stops on both sides of the road and how far each is from your current location. If you are visual person, use the Map function and remember that you are the little blue dot. Open and available Rest Stops are blue flags and red flags mean that the rest stop is currently closed. Each rest stop is listed with the distance from your current location, what side of the road it is located on, the mile marker, and what services are available including vending machines.
Life360. This app was made so that parents could keep track of their kids and make them check in when they are out and about. It is great while you are traveling because it has a built in GPS that works without a mobile network and lets people know when you have arrived at your destination or if you are in trouble. You can share your location with a select group of people called Circles. If you have been traveling and haven't checked-in in a while, you can also receive a notice from those in your Circles asking you to check-in. A great safety feature of the app is if you hit the big Red Exclamation Point it notifies the authorities that you are in trouble. It gives you 10 seconds to disable before it sends out the distress call.
Oh, Ranger. This app is a traveler's best kept secret. It lists out all the national and state parks in one easy location app. It will show you what is around your current location and it parks up to 200 miles away! It lists out what services are there such as camping, fishing, sightseeing, wildlife viewing and tons of other activities too. There is an embedded Google Map into the app that gives you driving directions as well.
Do you have any other apps to add?