These are a hit in our house! Spicy brown mustard, horseradish and more make this the best deviled eggs recipe I have tried!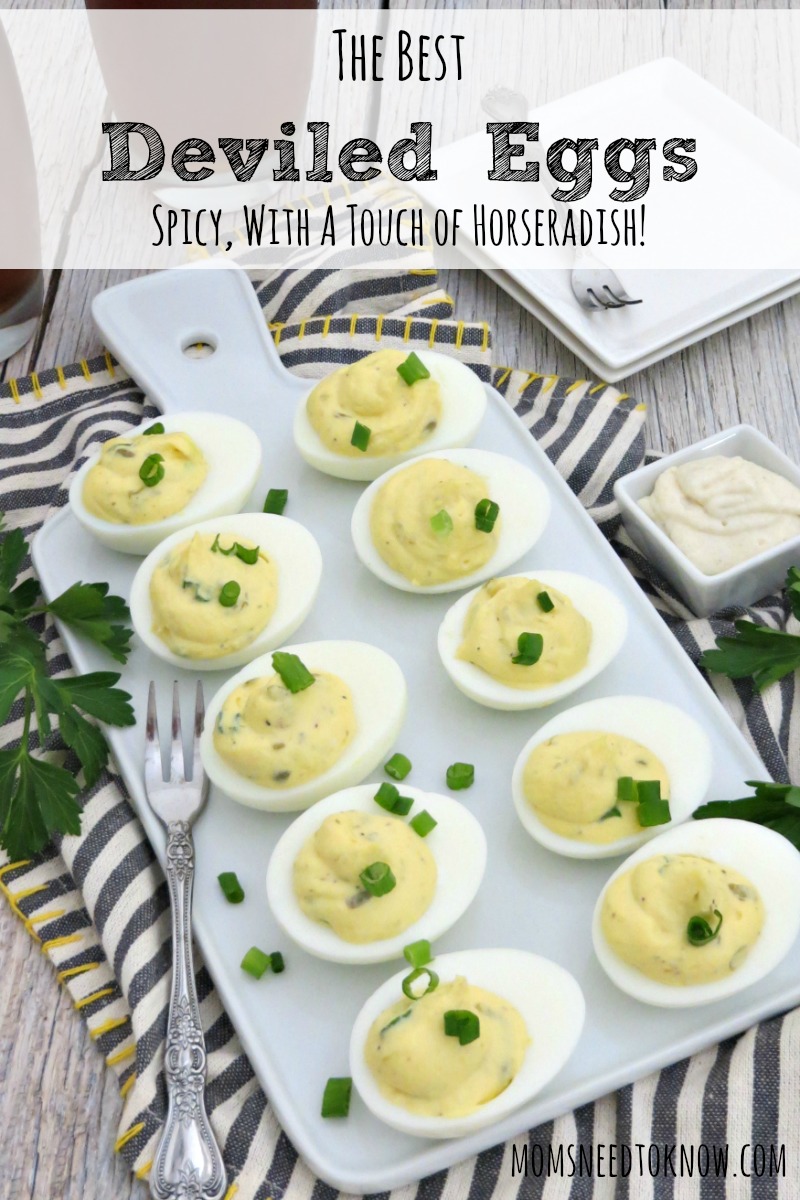 For most of my life, I have always thought that my mother had the best deviled eggs recipe - and they ARE absolutely delicious, but they really are a classic deviled egg.
And while there is nothing wrong with "the classics", sometimes it is time to try something new. That's exactly what I did when I decided to "play" with my mother's recipe and it turned out fabulous! I don't think my mom is going to rush to replace her recipe with this one on Thanksgiving and Easter....but now I have something different to serve at my home!
What make them so delicious? It's the addition of horseradish, as well as capers and spicy brown mustard! The horseradish and mustard give the filling a nice "kick" (although for a mellower filling, you can use Dijon mustard instead of spicy brown), and the capers finish it off with some salty goodness.
For those that like it extra spicy, you can serve a small dish of horseradish on the side.
One of the jokes in my family is that, for the best deviled eggs, you need to use "old eggs". I am not talking about eggs that are past their expiration, but eggs that are at least a week old. Why? Because of peeling them!
Simply put, if you go out and buy fresh eggs and then boil them, then you are going to have a heck of a time peeling them. You will have chunks of egg whites coming off with the shell. That is because of the shell membrane clinging to the shell. After about a week, that membrane will start to thin, making peeling them much simpler and "cleaner"
Capers are very salty, so you don't want to add any salt until you've added the capers and tasted it. I don't add any salt.
To easily fill the eggs, just scoop the filling into a Ziploc bag, snip off the end, and squeeze it into the eggs. Oh - and filling the eggs will be much easier if you set them on a paper towel to keep them from sliding around.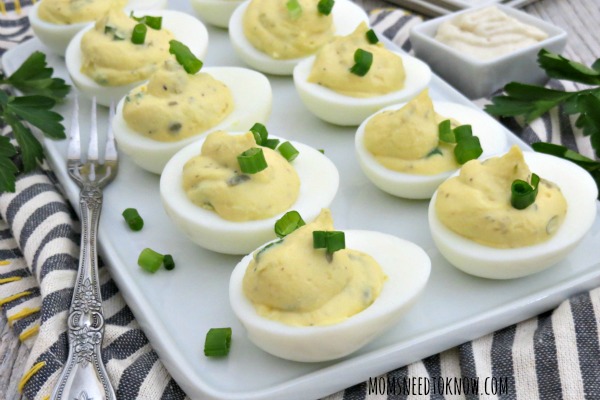 I like to add a few of the green onions before I purée the filling to give it a mild, oniony flavor. And then I like a few of them in the dip for some added texture. That said, if you like a completely smooth deviled egg filling, you can add all of the ingredients to the food processor at once.
Scroll down for the best deviled eggs recipe you will ever have (in my humble opinion)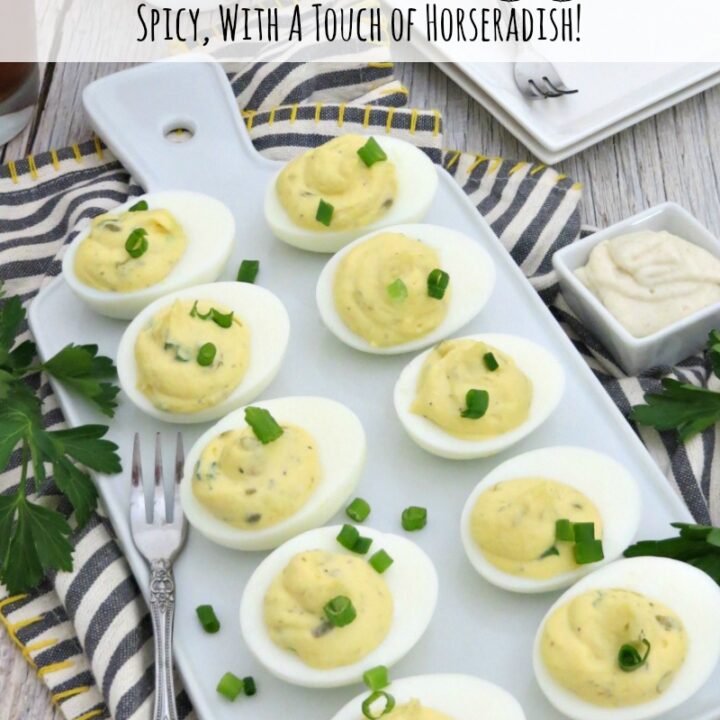 The Best Deviled Eggs Recipe | Spicy, With A Touch of Horseradish!
These are a hit in our house! Spicy brown mustard, horseradish and more make this the best deviled eggs recipe I have tried!
Print
Pin
Ingredients
6

large hard-boiled eggs

peeled

4

tablespoons

mayonnaise

1 - 2

tablespoons

prepared horseradish

1

green onion

finely sliced

1

teaspoon

spicy mustard

1

tablespoon

capers

roughly chopped

Salt & pepper to taste
Instructions
Carefully remove the yolk from each egg and set the whites aside.

Add the yolks to a mini food processor.

Add the mayonnaise, mustard, horseradish, black pepper, and a few of the green onions to the yolks. Blend until completely smooth or as smooth as you like it.

Transfer the filling to a bowl and add the remaining green onions and capers. Stir well to combine.

Taste and adjust to your liking, adding more of whatever you like to suit your taste.

Fill the eggs and garnish with the remaining green onions.
The Best Deviled Eggs Recipe