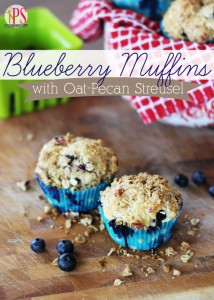 Need something new to make for breakfast this week? Try these Blueberry Muffins with Oat Pecan Strusel!
1/4 cup pecans (chopped)
1/4 cup light brown sugar (packed)
3 tablespoons all-purpose flour (divided)
3 tablespoons butter (cut into pieces)
1/4 cup uncooked rolled oats
2 cups all-purpose flour
1/2 cup granulated sugar
2 teaspoons baking powder
1/2 teaspoon baking soda
1/2 teaspoon salt
2 teaspoons grated lemon rind
3/4 cups buttermilk
1/3 cup vegetable oil
1 large egg (beaten)
1 1/2 cup blueberries
Head over to Positively Splendid for the recipe.