This orange marmalade recipe is made right in your pressure cooker or Instant Pot. It is ready in less than 30 minutes!
So a few weeks ago I made some homemade strawberry jam and I have to admit, I caught the "jam-making bug". This is what usually happens to me: I don't make any jams or jellies for 2 or 3 years and then all of a sudden I decide to make a batch and then that is all that I want to do for the next month.
This orange marmalade recipe was my 2nd batch that I made that weekend...and it is so easy to make!
I've made marmalade in the past. but it was always such a time-intensive task. It usually took about 45 minutes of boiling the oranges to get the peels soft enough. It was about 80 degrees the day I decided to make the marmalade and I was in no mood to stand over a boiling pot and heat up the house.
Enter my pressure cooker.
With my pressure cooker (I have an Instant Pot), I was able to quickly cook the oranges to perfection in just about 10 minutes. Once the oranges were soft, I simply added the sugar and boiled the marmalade until it reached 222F on a candy thermometer.
Easy Peasy Lemon Squeasy (or, I guess Orange Squeasy)!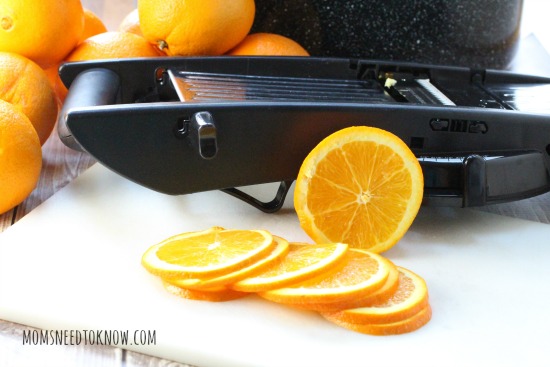 For perfectly sliced oranges, I used my mandoline slicer. I just sliced up my oranges, stacked the slices and cut them in to quarters. I swear, it only took about 3 minutes to slice my oranges!
Now - about the seeds. Citrus seeds contain the pectin that allow this orange marmalade recipe to set without having to add additional pectin. Many people will tell you to remove the seeds from the oranges and tie them up in a cheesecloth and float them in the marmalade as it cooks. They tell you this because orange seeds, like all citrus seeds, do contain trace amounts of cyanide, even though they are considered edible.
Well, when you are slicing the oranges with a mandoline slicer, you are slicing the seeds as well...and it can be quite a pain in the butt to try to pick out of the slices...so I don't even bother.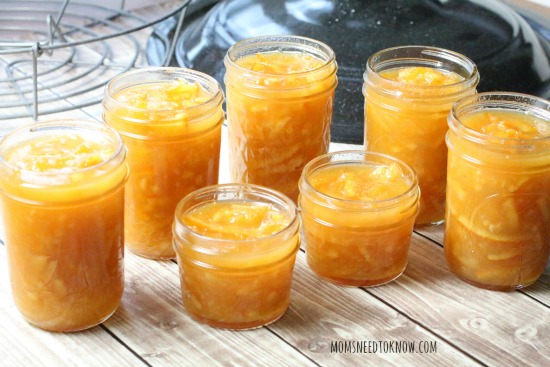 As a general rule, when you make marmalade, you use a 1 to 2 ratio for citrus to sugar.  So if you have 2 pounds of oranges, you will need 4 lbs of sugar.  While I think that is fine for the more sour citrus fruits (like lemon or grapefruit), I tend to cut back on that ratio when I make my orange marmalade recipe....oranges already have so much sweetness in them!
Bottom line?  Have the right amount of sugar available, but you might want to start with less sugar and taste it.  You can always add it all - you can't take it out once you have added all the sugar!
This recipe made 3 pints for me.  I canned them using the water bath canning method, but you can also easily freeze the jars (just make sure you have freezer canning jars)
Anyway...let's get to making some pressure cooker orange marmalade.  Scroll down for the recipe!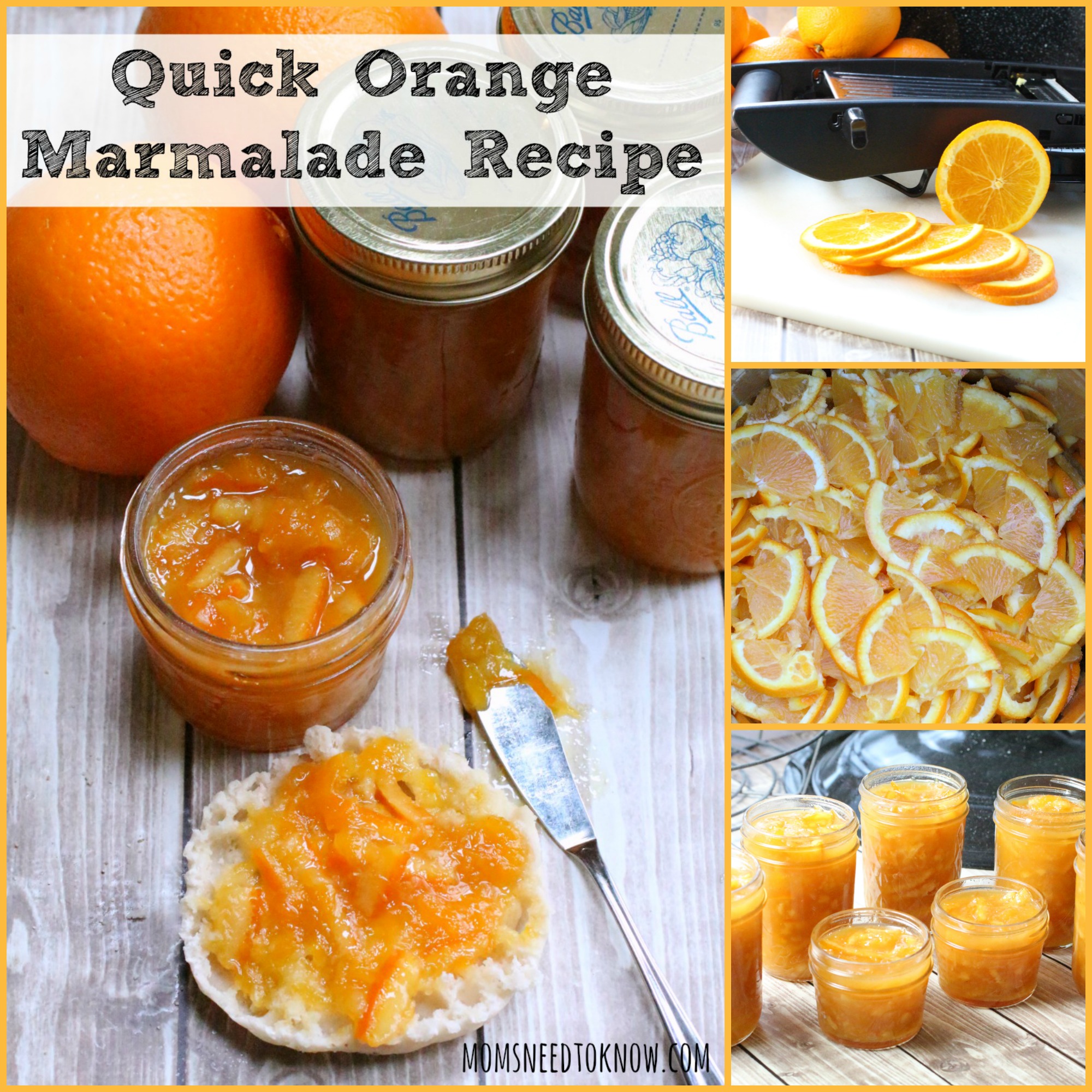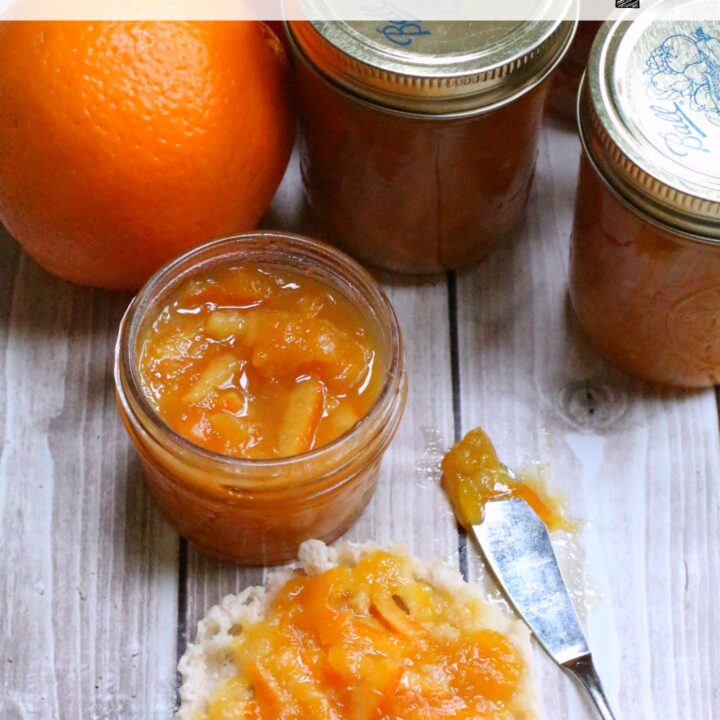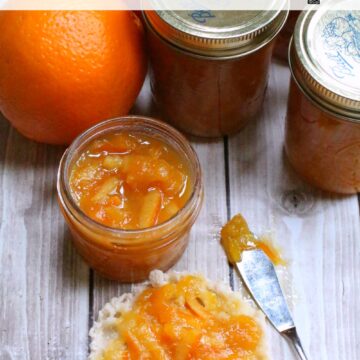 Quick Orange Marmalade Recipe
This orange marmalade recipe is made right in your pressure cooker or Instant Pot. It is ready in less than 30 minutes and is so easy to make!
Print
Pin
Ingredients
2

lbs

oranges

washed

3 - 4

lbs

sugar

to taste (about 6 1/2 to 9 cups)

2

c.

water

or the minimum needed to bring your pressure cooker to pressure
Instructions
Using a mandoline or sharp knife, thinly slice the oranges. Stack the slices and cut in to quarters.

Place the orange quarters (along with any juices on the cutting board) in to your pressure cooker

Add about 2 cups of water (or however much your pressure cooker needs to come to pressure)

Seal your pressure cooker

If using a

manual pressure cooker

: turn your stove to HIGH until it reaches pressure. Once it is aat pressure, reduce the heat and cook for 10 minutes

When the time is up, open your pressure cooker using the NATURAL RELEASE method.

Once pressure is released, open your cooker and add the sugar.

Turn the heat up again and cook and stir until the marmalade reaches 212F with a

candy thermometer

(it will be thin)

Let cool about 5 minutes (more if using freezer jars, since they are plastic)

Using a ladle and a

canning funnel

, transfer orange marmalade to canning jars
Quick Orange Marmalade Recipe