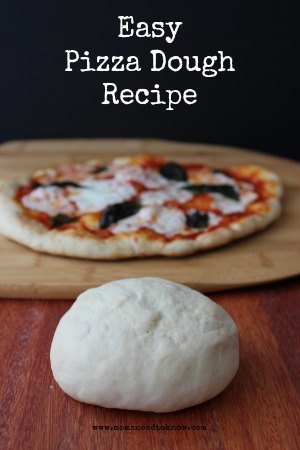 Who doesn't love pizza? We have pizza for dinner at least once a week and with a family of 5, we usually will need to order 2 large pizzas when we get takeout (my oldest son is 13 and eats everything in sight!).  That can get quite expensive and it is just SO easy to make your own pizza crust with my easy pizza dough recipe! (save even more money by making your own sauce with my homemade pizza sauce recipe!)
The easiest way to make it is with a Kitchen Aid stand mixer using the dough hook attachment, but if you don't have one, you can make it the old fashioned way...with your hands.  I have included directions for making it both ways.
This recipe makes enough pizza dough for 4 10-12" pizzas and can easily be frozen.  To freeze this pizza dough recipe, simply divide the dough in to 4 dough balls after it is done rising, wrap well in plastic wrap and place in a freezer bag.  When you want to make pizza, simply remove the dough ball from the bag (keep the plastic wrap around it) and place on your kitchen counter and allow it to thaw/rise again (about 3 hours)
To make it, you will need:
Pizza dough recipe ingredients:
3 cups Flour
1 tbsp Yeast
1 tbsp Sugar
2 tsp Salt
1 tbsp Olive Oil
9 fl oz Warm Water
Directions:
To make it in a KitchenAid or stand mixer:
Place flour in the bowl for your mixer and make a well in the flour

Fill well with the yeast, sugar, salt, olive oil and water
Attach the dough hook to your mixer and turn mixer on low until all ingredients are combined (about 3 minutes)

Turn mixer to medium speed and knead for 5–10 minutes or until a smooth ball forms.
To make it by hand:
Place flour into a large mixing bowl and make a well in the center.
Add yeast, sugar, salt, olive oil and water and stir until combined (you may need to use your hands and not a spoon to get everything mixed together)
Turn out onto a lightly floured surface and knead for 5–10 minutes or until a smooth ball forms.
Once you have the dough ball made:
Place dough ball into a lightly oiled bowl and cover with a clean dry cloth.
Place bowl in a warm place away from any drafts until the dough has doubled in size, about 30 minutes.
Turn dough out on a floured surface and punch down the dough to remove excess air.
Divide dough in to 4 pieces.
Roll out each piece (or freeze some for later) and top with pizza sauce and your favorite toppings!
Bake at 400 for about 12 - 15 minutes or until edges are browned and bottom is fully cooked.
Enjoy!
And there you have it!  An easy pizza dough recipe that you can make for very little money!  Have you ever made your own pizza crust?