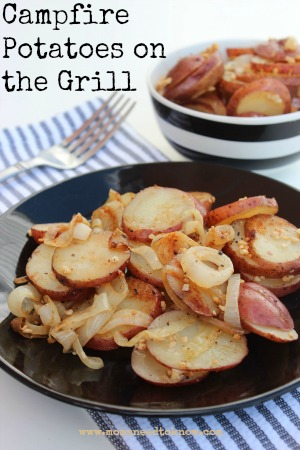 If you are a camper, you have probably at some point made campfire potatoes. It is an easy dish to make with minimal cleanup. But campfire potatoes can really be made anywhere you have an open flame and we love to make them at home on the grill. Not only are they delicious, but they won't heat up your house and it is one less dish to have to clean after dinner.
We have tried many different variations of potatoes on the grill and the general consensus in our house is that red potatoes work out the best. They just have a sweeter taste that is just perfect for this recipe. You can cut them in slices as shown, or cut them in wedges and they will still cook up fine!
To make these campfire potatoes on the grill, you will need:
Ingredients:
1 1/2 lb New Red Potatoes
1 large Onion
1 tbsp Minced Garlic
4 tbsp Butter
1-2 tbsp Worcestershire Sauce
1/8 tsp Cayenne Pepper
Salt and Pepper to taste
Directions:
Slice potatoes and onion into 1/8 - 1/4" slices.
Grab a large piece of aluminum foil (large enough to fold over and to be able to roll up edges to make a packet) and lightly spray with non-stick cooking spray.  Place potatoes and onion in center of foil
Top with garlic, butter, Worcestershire and cayenne.

Fold packet over and roll edges to close.
Place grill over medium heat 30 minutes or until potatoes are tender.

To cook in the oven, place foil packet in a 350 oven for 35-40 minutes (place a cookie sheet on the rack underneath to catch any possible dripping)
Serve and enjoy!