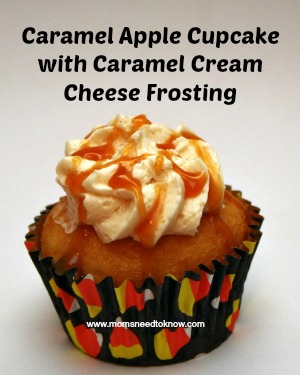 If you are looking for a fall dessert idea, look no farther than these Caramel Apple Cupcakes! It combines your favorite fall flavors with the fun of cupcakes!
For the frosting and drizzle, you can either use store-bought caramel, or you can use my homemade caramel sauce recipe.
Caramel Apple Cupcake with Caramel Cream Cheese Frosting
For the cupcakes:
1 1/2 cups very finely chopped apples
1 package yellow cake mix (18.25 oz)
1 package vanilla instant pudding mix (3.4oz)
3/4 cup water
1/2 cup vegetable oil
3 large eggs
For the frosting:
8 ounces cream cheese, softened
4 tablespoons butter, softened
1/2 cup caramel sauce
1 teaspoon vanilla extract
4 cups powdered sugar
additional Caramel Sauce, for drizzling
Instructions:
Preheat oven to 350F. Line cupcake tin and set aside.
Using a food processor, finely chop the apples.
Combine the cake mix, pudding mix, chopped apples, water, oil, and eggs in a mixing bowl. Using electrix mixen, beat for about 2 minutes.
Spoon 1/4 cup batter into each lined muffin cup.
Bake for 18 minutes or until toothpick comes out clean.
Cool completely before frosting!
To make the frosting:
Beat cream cheese and butter until smooth. Add caramel sauce, vanilla, and powdered sugar. Beat on low speed until blended. If mixture is too thick, add a little milk. If mixture is not thick enough, add more powdered sugar.
Frost cupcakes
Drizzle cupcakes with caramel sauce.
Enjoy!
I would love to know if you made these and how your family liked them!
*Cupcake recipe adapted from the Cupcake Doctor because the idea of using canned apples (not apple pie filling, just canned apples) seemed ridiculous!