Apples and caramel just seem to go together and this apple caramel dip recipe can be made so easily (and cheaply) and is much better than those pre-made dips that you can find in the stores! This would also make a great substitute for store-bought caramel in my caramel apple cheesecake recipe!
A delicious caramel apple dip for fall this recipe only takes a few basic ingredients, most of which you probably have on hand. It is a tasty way to enjoy crisp,apples, top ice cream, or brownies. Here are two wonderful caramel dip variations that will be a go to for you and your family throughout the fall and beyond. It would also make a lovely hostess gift to take with you when you visit.
Ingredients:
1 cup granulated sugar
4 Tbsp. butter
½ cup half and half
⅛ tsp. salt
Directions
In a large saucepan combine sugar and half & half over medium- high heat, stir gently.
Cook until mixture turns a dark caramel color, approximately 10 minutes.

Once it reaches desired color add salt and butter, whisk to a smooth consistency. Use care when adding these ingredients, they bubble up quickly.
Allow caramel dip to cool for about 10 minutes and then pour into container of your choice.
Variation:  For a wonderful salted caramel version; Follow the above instructions and add 1 tsp. kosher or sea salt.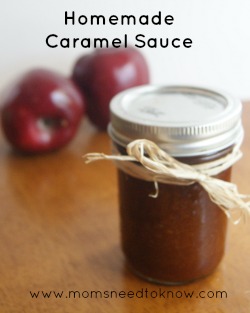 To give you caramel dip as a gift - pour into a small mason jar , seal , and tie with a pretty ribbon or raffia and add a handmade tag.
Looking for more apple recipes?