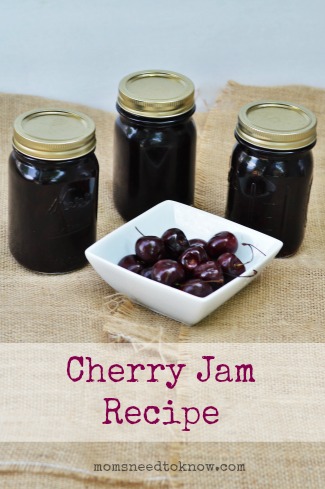 There are so many things I love about summer that I don't think I could name them all. The warm weather, family vacation, eating fresh fruit out of the garden... That's why I am always so sad to see summer end. Now that I've started canning some of my own fruits and vegetables, however, at least I can still enjoy delicious foods from my garden all year round!
One recipe I love to make ahead for wintertime is this Cherry Jam Recipe. It uses the water bath canning technique, so it's super easy to make, and it tastes really great as well!
This Cherry Jam Recipe goes really well alongside my English Muffin recipe, when I'm not in the mood for my usual Peach Preserves recipe. Either way, talk about a great way to start the morning!
As a bonus, not only does this Cherry Jam recipe offer a great start to any morning, but it makes a very thoughtful and frugal gift idea as well. Wrap a pretty bow around it or stick a cute label on it and you've got an awesome last minute gift idea that anyone is sure to love. Whether you are attending a baby shower, a birthday party or a Christmas party, this Cherry Jam with the Cherry Jam recipe is a can't-fail gift. Make plenty of them and keep them on hand just in case! Whether you eat them or give them as gifts, they definitely won't go to waste!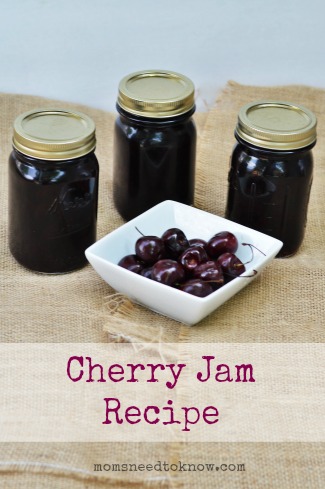 Ingredients
4

cups

cherries

about 3 lbs

¼

cup

lemon juice

1

box Sure-Jell Pectin

5

cups

sugar

¼

tsp

almond extract

optional
Instructions
Prepare your jars, lids, and rings by washing with warm, soapy water. Place the lids in a small saucepot to simmer. Fill a water bath canner half full of water and bring to a boil.

Wash cherries and remove stems. Pit the cherries by pressing the flat edge of a knife in the center (or you can use a

cherry pitter

. I highly recommend using a sheet pan to catch the juice, as this job gets pretty messy!

Finely chop or grind cherries (a food processor works best). Put four cups of the prepared mixture into a saucepan. Add lemon juice and pectin. Bring to a full rolling boil, stirring constantly. Stir in sugar and almond extract, and return to boil for exactly one minutes, stirring constantly. Skim foam if necessary.

Ladle into clean jars, leaving ¼" headspace. Wipe rims with a clean, wet cloth and place warm lids on top. Tighten rings. Submerge the jars into the water bath canner. There must be 1"-2" of water over the tops of the jars. If there is less, add more boiling water.

Bring the water to a boil. Once it reaches the boiling point, process the jars for 10 minutes.

Remove from water and place on a towel to cool. After they have cooled, check to make sure the jars have sealed by pressing gently in the center of each lid. There should be no spring to the lid. If there is, reprocess immediately or refrigerate.