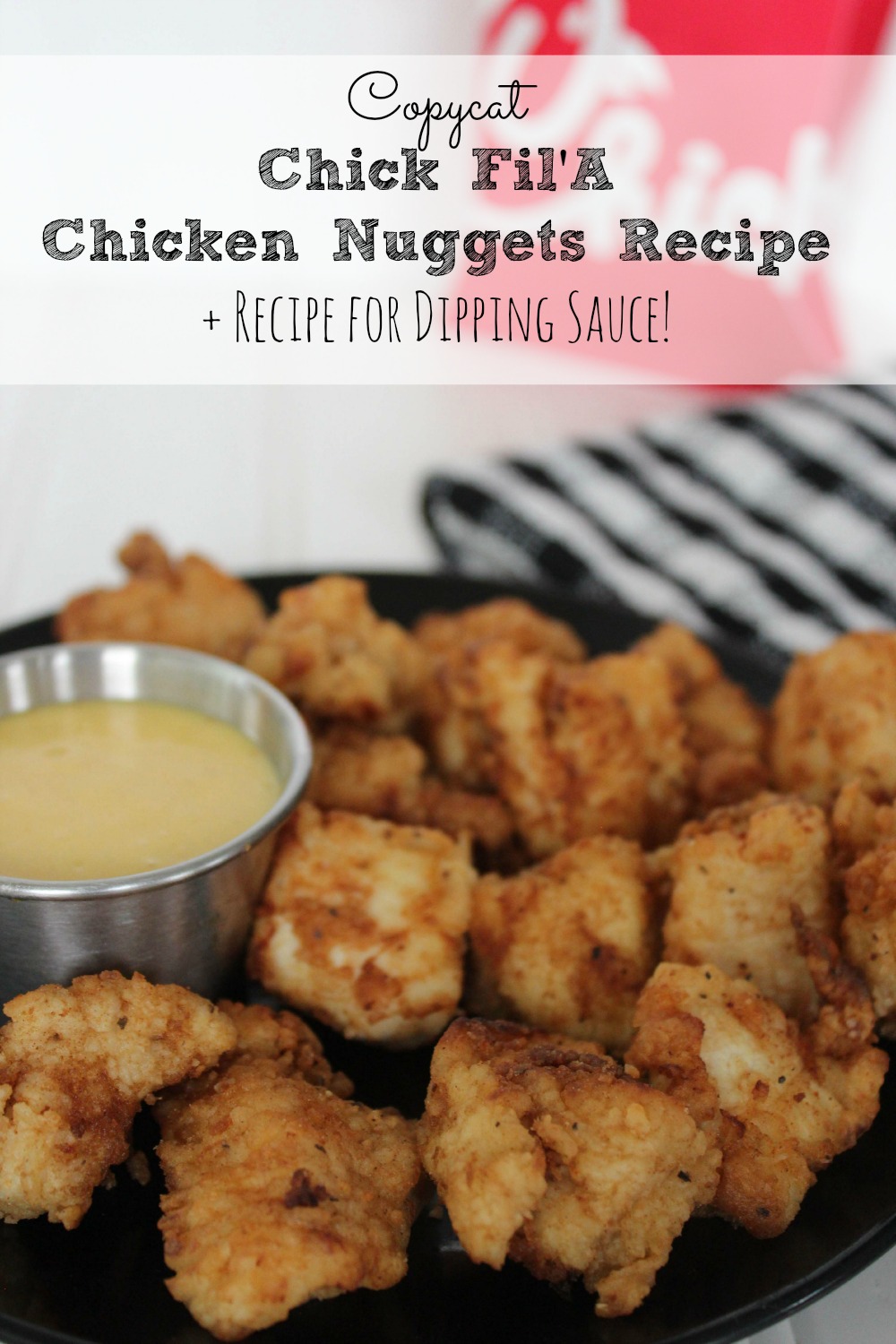 I seriously love Chick Fil'A chicken! It is hands-down my favorite chicken sandwich out of all the fast food restaurants out there. I don't eat it often, but when I find myself on the go and needing to get something quick to eat, Chick Fil'A will always be my first choice!
A while ago, I shared my recipe for Copycat Chick Fil'A Chicken Sandwiches, but my children aren't a big fan of eating the chicken as a sandwich. They very much prefer the nuggets along with the dipping sauce. The process for making the chicken nuggets is pretty much the same as making the sandwich, but the chicken cooks much quicker.
As I have mentioned many times, I can't stand frying foods in the house. It seems like the smell of the oil lingers in the house for 3 or 4 days. Because of that, whenever I do fry something, I try to make a double or triple batch and freeze the leftovers. These copycat Chick Fil'A Chicken Nuggets DO freeze beautifully - just pop them in the microwave for about a minute to reheat them!
You will need the juice from a pickle jar to marinate the chicken. If you don't usually eat pickles, just pick up the cheapest jar of dill pickles at the store. Marinating the chicken in the pickle juice infuses a ton of flavor in to the chicken. There really is no substituion for it. Likewise, you need to use peanut oil to fry the chicken. While I do use vegetable or olive oil for most of the items that I fry or sautee....peanut oil is just another thing that you have to use if you want them to taste like the ones at Chick Fil'A!
Of course, what sets Chick Fil'A chicken nuggets apart is their "special" dipping sauce. Believe it or not, their sauce is just a mixture of 3 items that you probably already have in your refrigerator - Honey Mustard Dressing, Barbecue Sauce and a little bit of apple cider vinegar.
Pair this with a tall glass of my copycat Chick Fil'A Lemonade recipe for an even better at-home Chick Fil'A "experience"!
Scroll down for the complete directions!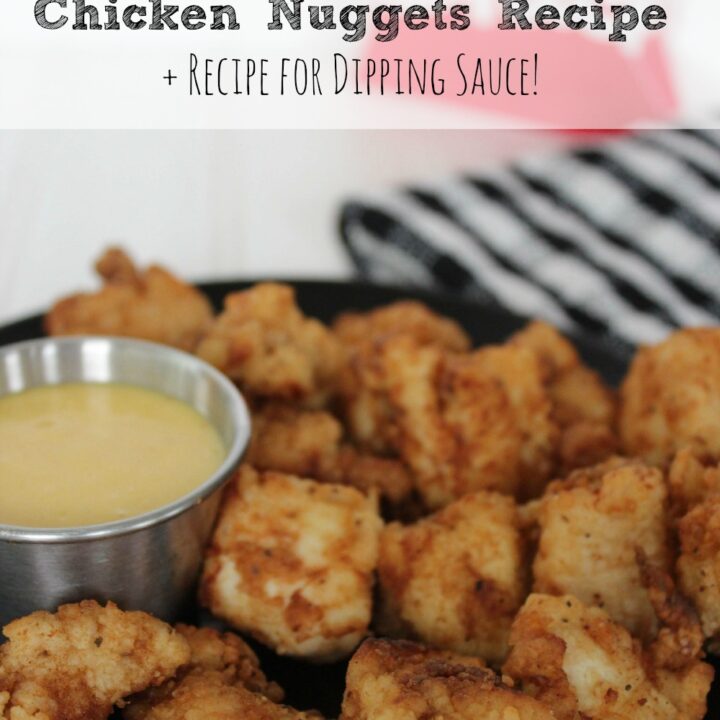 Ingredients
For the Chicken Nuggets:
1

cup

Dill Pickle Juice

1

lb

Boneless Skinless Chicken Breasts

1

Egg

1

cup

Milk

1 1/2

cup

Flour

3

tbsp

Powdered SUgar

2

tsp

Salt

1 1/2

tsp

Pepper

1/2

tsp

Paprika

Peanut Oil
For the Dipping Sauce
1/2

cup

Ken's Steakhouse Honey Mustard Dressing

1

tsp

Sweet Baby Ray's BBQ Sauce

1/2

tsp

Apple Cider Vinegar
Instructions
Combine dipping sauce ingredients. Set aside.

Cut chicken into roughly 1" pieces and place in zippered bag with pickle juice to marinate in the refrigerator for at least 4 hours.

Whisk together milk and egg in a large bowl.

Drain pickle juice from chicken and add the chicken to the egg mixture.

Toss chicken to ensure all pieces are coated with the egg.

Drain excess egg mixture.

In a heavy skillet, heat oil over medium heat to about 375.

In a zippered bag, combine flour, powdered sugar, paprika, salt and pepper. Shake well to mix.

Add chicken to zippered bag and shake to coat.

Cook chicken pieces in oil until crispy and browned (about 3 to 4 minutes).

Drain cooked on paper towels.

Serve with the dipping sauce