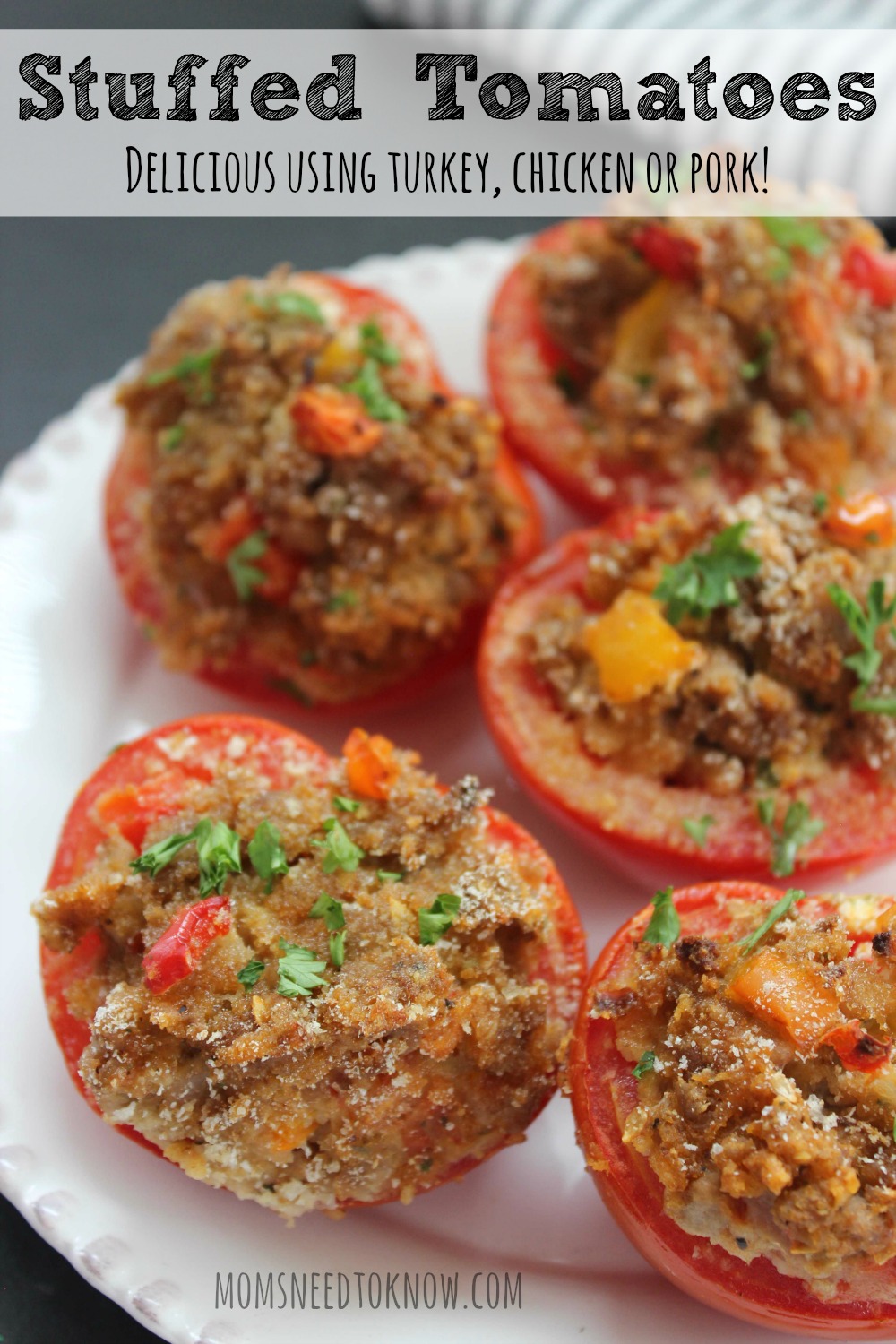 We are heading in to tomato season (although it probably already is in "full swing" in the South already) and pretty soon you are going to be looking for a way to use all those tomatoes in your garden (or just take advantage of the cheap tomatoes at the grocery stores).
I usually like using Marzano tomatoes for just about everything (except I like cherry or grape tomatoes for my salads), but I always make sure to have at least 1 beefsteak tomato plant and I know that many people prefer them for most things.  Lucky for those people, beefsteak tomatoes are the perfect tomatoes for this (mostly due to their size, as they tend to be bigger).
My family prefers when I make these with ground pork, but I have made them with ground chicken and turkey and they turned out just fine...although I did reduce the amount of bread crumbs when I used turkey or chicken.  You can even make these vegetarian (not vegan - there is egg in it) by just using those "meat-substitute crumbles" instead of ground meat.  I'm not really good with using those crumbles - I guess you would just saute the veggies and then add the thawed crumbles to it?
Like my Santa Fe Stuffed Peppers, you are going to want to watch these closely as you get in to the last 15 minutes of cooking.  Tomatoes have a lot of water in them and since the filling is already cooked, you are just baking them long enough for the tomatoes to get tender.  The problem is, once they start to get tender, they will get "mushy" really quickly.  Just keep an eye on them and be ready to pull them out of the oven as early as 30 minutes after you put them in the oven (it's really going to depend on how fresh/firm your tomatoes are).
Scroll down for the recipe!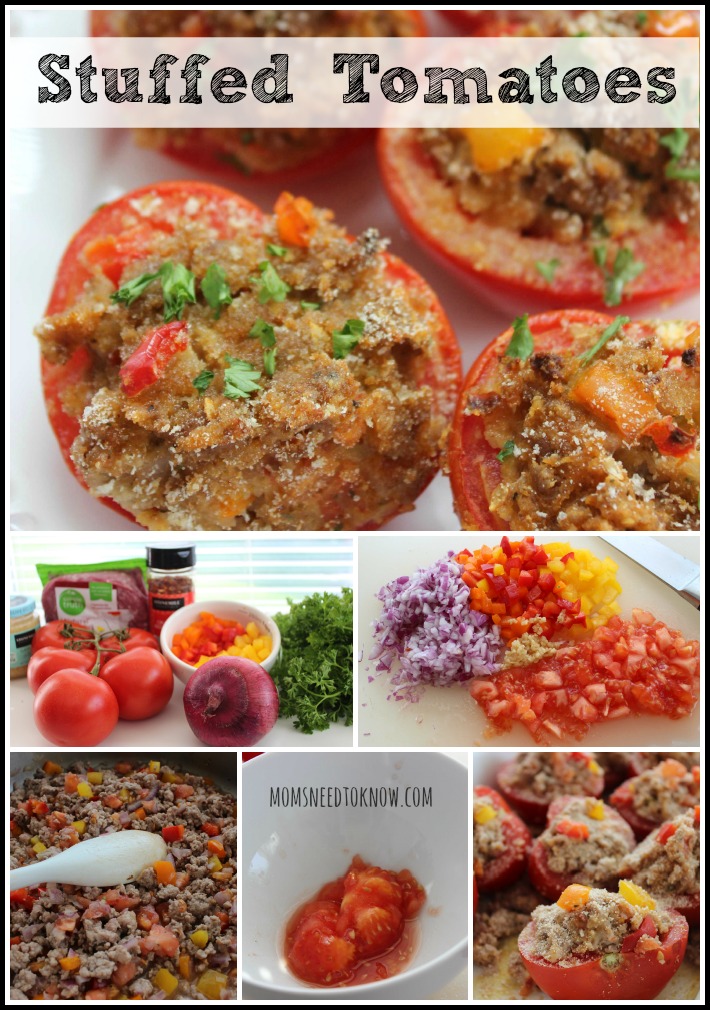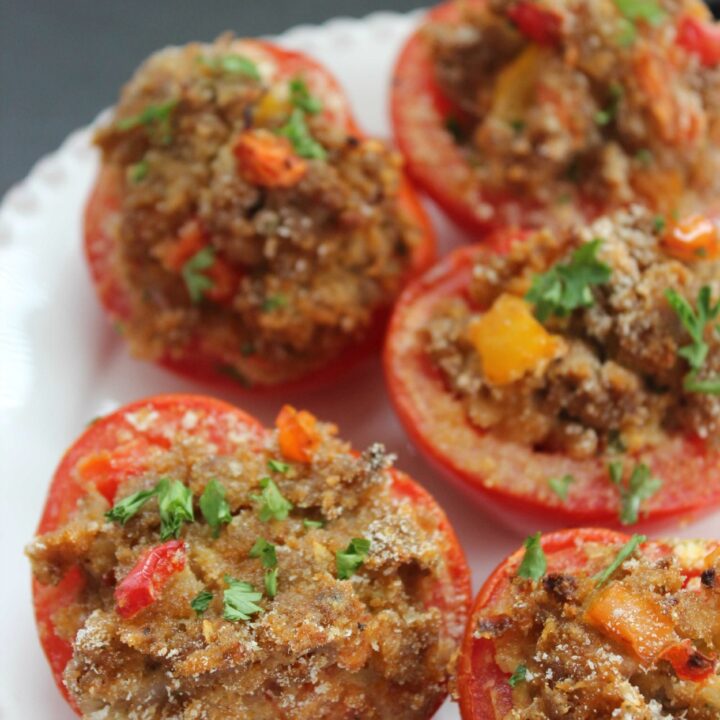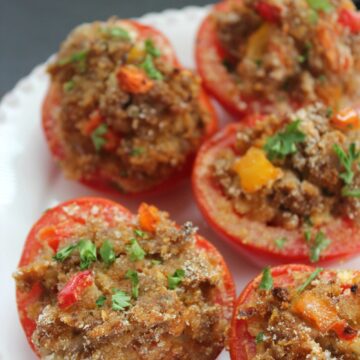 Stuffed Tomatoes | Delicious With Turkey, Chicken or Pork!
These stuffed tomatoes can be made with ground turkey, chicken or pork. You can even make them vegetarian by using meat substitute crumbles!
Print
Pin
Ingredients
6

medium Tomatoes

1

lb

Lean Ground Pork

Chicken, or Turkey (or 1 lb Meat-Substitute crumbles)

2

tsp

olive oil

1

small Red Onion

diced fine

2

tsp

Minced Garlic

1/4-1/2

cup

chopped Bell Peppers

optional

1/4

tsp

Crushed Red Pepper Flakes

1/2

tsp

Salt

1/2

tsp

Ground Black Pepper

1

cup

Bread Crumbs

use slightly less if using chicken or turkey

1

Egg

beaten

2

tsp

chopped fresh Parsley
Instructions
Preheat oven to 350.

Split tomatoes in half and scoop out the center/pulp into a bowl.

Place hollowed tomatoes into a baking pan and set aside.

Chop the tomato pulp/center.

Put the olive oil in a large skillet and add the meat and saute for about 4 minutes.

Add the diced onion, minced garlic, salt, black pepper, and red pepper flakes.

Cook and stir until meat is no longer pink.

Add bell peppers and diced tomato pulp and cook for 2 more minutes.

Remove from heat and allow to cool slightly (just enough so that it isn't hot enough to "cook" the egg when you add it in the next step)

Add beaten egg and bread crumbs mixing well.

Fill tomato halves with the filling mixture.

Place stuffed tomatoes in oven for 30-45 minutes until tomatoes are tender