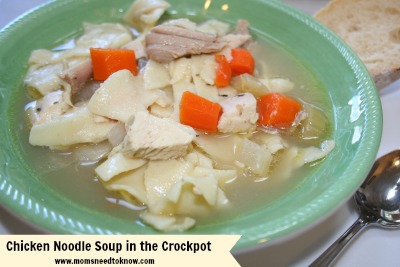 Oh - chicken soup! It is so warm...so satisfying! The smell of it cooking is one of the most wonderful smells in the world. When made from scratch, it is full of just healthy goodness! This chicken noodle soup recipe is so easy. The best part is, since you are using a whole chicken to make the broth, you should have more than enough chicken (once you remove all the chicken from the cooked roaster) to make this recipe as well a few others!
Homemade soup is so nourishing. Even if you only do a few of these steps, this recipe is a great way to make chicken stock! Just follow all the directions and once the chicken is cooked, remove all the meat from the bones and reserve the stock in the crockpot for future recipes! Save the chicken for later!
I know that there are some recipes out there that call for boneless skinless chicken breasts when making a chicken noodle soup recipe, but in my never-to-be-humble opinion, you NEED to be using chicken with bones.  The bones give the broth SO much flavor and that just can't be recreated by adding additional stock or bouilon.  If you don't want the extra leftover cooked chicken (or don't like dark-meat chicken), grab about 2 lbs of bone-in chicken breasts instead of a roaster.  But still - the roaster will give you the most flavor (and is usually about 1/4 the price per pound of boneless skinless chicken breasts!)
Anyway - let's get the the chicken noodle soup recipe! You will need:
4 cups water
4 cups canned chicken broth
1 1/2 cup onion, coarsely chopped
1 1/2 cups carrots, cut in to chunks
1 cup celery, cut into 1/4-inch slices
2 garlic cloves, minced
3 bay leaves
1/2 teaspoon dried thyme or 2 tsp fresh thyme, chopped (fresh is better)
4 teaspoons salt (to taste)
1 teaspoon fresh ground black pepper, to taste
1 (4 lb) roasting chicken
3 cups wide egg noodles, uncooked
Directions:
Remove giblets and neck from chicken. Wash the inside and outside of the chicken
In a 6-quart Slow Cooker, combine carrots, celery, onion, garlic, bay leaves, thyme, salt, t pepper.
Place whole chicken on top of vegetables. Add water and broth
Cover slow cooker with lid and cook on the low setting 7 to 8 hours or on high 4-5 hourss
Transfer chicken to cutting board. Discard bay leaves.
Add noodles to crockpot; cover with lid and cook (on low) for about 20 minutes or until noodles are cooked.
While the noodles are cooking, remove and discard skin, fat and bones from chicken. Shred and/or cube the meat, depending on how you like to eat your chicken soup
Skim fat from the soup and discard.
Return the cooked chicken to soup to serve. (you will probably have too much chicken - just set aside the rest for another recipe!)
Serve this soup with a good crusty french bread
Let me know if you tried this recipe! I think I enjoy soaking up the broth with french bread more than the rest of it!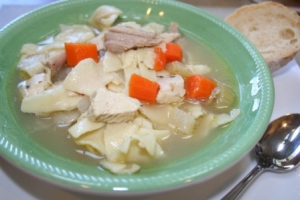 Ingredients
4

cups

water

4

cups

canned chicken broth

1 1/2

cup

onion

coarsely chopped

1 1/2

cups

carrots

cut in to chunks

1

cup

celery

cut into 1/4-inch slices

2

garlic cloves

minced

3

bay leaves

1/2

teaspoon

dried thyme or 2 tsp fresh thyme

chopped (fresh is better)

4

teaspoons

salt

to taste

1

teaspoon

fresh ground black pepper

to taste

1

4 lb roasting chicken

3

cups

wide egg noodles

uncooked
Instructions
Remove giblets and neck from chicken. Wash the inside and outside of the chicken

In a 6-quart Slow Cooker, combine carrots, celery, onion, garlic, bay leaves, thyme, salt, t pepper.

Place whole chicken on top of vegetables. Add water and broth

Cover slow cooker with lid and cook on low setting 7 to 8 hours or on high 4-5 hours.

Transfer chicken to cutting board. Discard bay leaves.

Add noodles to crockpot; cover with lid and cook (on low) for about 20 minutes or until noodles are cooked.

While the noodles are cooking, remove and discard skin, fat and bones from chicken; Shred and/or cube the meat, depending on how you like to eat your chicken soup

Skim fat from the soup and discard.

Return the cooked chicken to soup to serve.

Serve this soup with a good crusty french bread