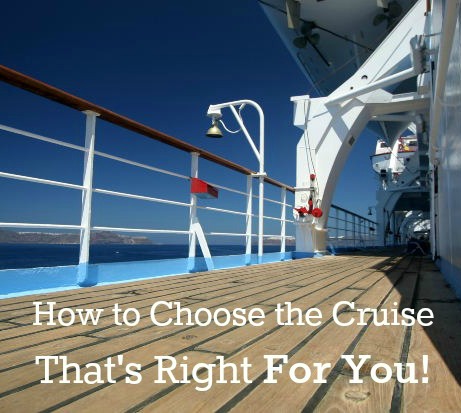 When it comes time to choose the right cruise there are many considerations that come into play. We already talked about how you can afford a cruise for the same cost as other vacations, but now it it time to make some serious plans.
Start planning your cruise at least 12 months in advance and as many as 24 months ahead of time. This will give you plenty of time to find the best cruise, make a reservation, and pay for your vacation. With so many options available today, picking the right cruise for you can seem overwhelming.
Budget
Before you start planning you need to set a rough budget. Be sure to include what you can spend not only on the cruise but on transportation to get to the port, gratuities, shore excursions, and any other incidental costs you may experience. There are more costs involved than just the ship reservation. Once you have a general idea of what you can spend it's time to consider where to go.
Destinations
If you have a small budget you may be limited as to where you can go. Caribbean cruises are plentiful and you can often find really inexpensive deals for vacations. Look at alternative departure ports for a bigger discount. Not only may the cruise itself be cheaper but you can save on airfare in some cases. But don't' just go with what you think may save you money. Think that cruising from Miami will be less expensive than San Juan, Puerto Rico? You may be surprised to find in many cases this isn't true. Not only can flights to San Juan be more affordable but the cruise itself can cost less and go to islands a cruise from mainland Florida doesn't.
Sail Days vs. Port Days
This question comes into play when you look at the length of cruise you want to take. Many times a cruise can be longer (7 or 9 days) but have the same number of port stops as a 5 day cruise. If visiting as many ports as possible is important to you, then you'll want to consider not just how long the cruise is but how many places it stops. There is much to be said for picking a cruise with "at sea days" (you can spend time on ship taking advantage of all those amenities for which you are already paying) vs. a cruise with a new port every day (all those port excursions can add up and bust your vacation budget!)
Shore Excursions
Is there some place you'd really love to visit or an experience you want to be sure to have? Choosing your destination based on shore excursions is one way to cut down on your choices. This can be a handy tool when you have dozens of cruises to choose from. When you only have a few hours in port, a white sandy beach is a white sandy beach, no matter which Carribbean island you are visiting. However, if you want to have a "dolphin experience", not all ports of call will offer that (but be sure to check out our reasoning for skipping the "dolphin experience")
On Board Features
One final way to choose the right cruise for you is based on what is available on the ship. If you love partying, dancing, or gambling you'll want to choose a cruise that has plenty of evening entertainment and options for those over 21. If on the other hand you have young children and prefer quieter activities you'll want to look for cruises without or that only has a little of this. Review several different cruise lines to see what is offered so that you have an idea what to expect, especially if this is your first experience.
If you're still worried about how to choose the right cruise, consider visiting a travel agent who specializes in cruises. You can let them know what you do and don't like along with your budget and they can make recommendations based on their experiences. You may pay a little more for this but in the end it will be less costly than a vacation you end up hating!