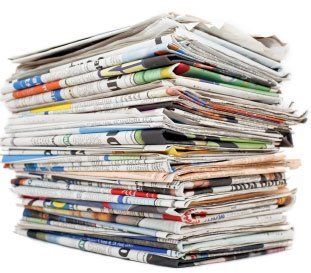 I get this question all the time and the answer is simple:  It Depends!
There have been weeks where I have bought just 1 copy of the newspaper, and there was 1 week where I bought 22 copies of the newspaper! (and plenty of weeks in between where I bought anywhere from 3-10 issues).  So how do you know how many copies to buy each week?
As a general rule, I like to think that 1 copy per family member should be your minimum. If you have 5 members in your family, you should be getting 5 copies of the paper each week.
HOWEVER, this rule is not set in stone.  There are some weeks where the coupons are pretty yucky, and according to the Coupon Insert Schedule, some weeks where there will be no coupons.  How do you find a healthy balance, not buy more newspapers than you need, but not miss the good coupons?
Consider a Subscription:  I have 3 subscriptions to the Philadelphia Inquirer...so every week they throw 3 papers on my driveway.  This gives me a good starting point and most major newspapers will have a deal every few months where you can get the Sunday paper at a deeply discounted rate. Keep looking for those deals and renew your subscription at the discounted rate whenever possible.
Check out the Sunday Coupon listings:  updated by Thursday morning each week, this is a complete listing of the coupons that will be in the Sunday newspapers.  Check out the coupons, see which ones you like and make your decision based on that!
Never miss my Coupon Insert Preview posts:  every Saturday morning, I post my Coupon Insert preview post, where I detail what I think are the best coupons this week.  I let you know how many newspapers that I will be buying that week.  I've been told and emailed that many of my readers find this an invaluable tool and that I am rarely wrong!
How many copies of the newspaper do you buy each week?  How do you decide how many to buy?
Looking for more Extreme Couponing tips? Make sure that you check out all the posts in my Coupon 101 and Coupon Ethics sections!