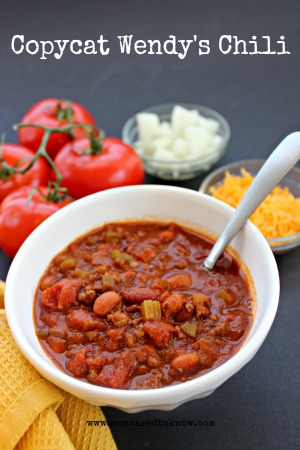 Wendy's Chili is one of those things that you either love or you hate. I happen to like it, although I can count the number of times that I have eaten it by itself on one hand. When I eat it, I am always eating it poured over a salad, with cheese sprinkled on top. It just makes the perfect dressing for salads when you want something good!
The difference between this copycat Wendy's Chili recipe and my other easy chili recipe is that this one involves boiling the beef to remove excess fat after you have browned it. it also has less tomatoes and more beans than most other chili recipes, making for a beefier chili.
To make it, you will need: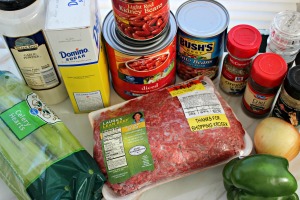 2 lb Ground Beef
2 28 oz Diced Tomatoes in Juice
1 16 oz Kidney Beans drained
1 15 oz Pinto Beans drained
2 small Onion diced
1/4 cup Celery diced (2-3 stalks)
1/4 cup Bell Pepper diced
3 tbsp Chili Powder
2 tsp Cumin
1 tsp Black Pepper
1 tsp Salt
1/2 tsp Oregano
1 tsp Sugar
2 tsp Garlic Powder
2 cup Water
Scroll down for the complete directions!
You might want to try these other copycat recipes:
Copycat Bonefish Grill Bang Bang Shrimp recipe - Coming Soon!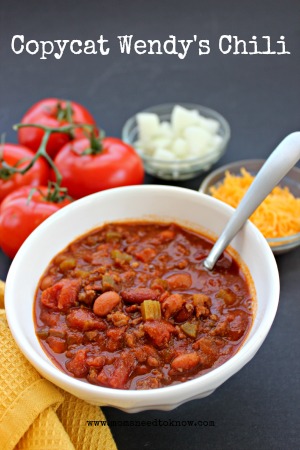 Ingredients
2

lb

Ground Beef

2 28

oz

Diced Tomatoes in Juice

1 16

oz

Kidney Beans drained

1 15

oz

Pinto Beans drained

2

small Onion diced

1/4

cup

Celery diced

2-3 stalks

1/4

cup

Bell Pepper diced

3

tbsp

Chili Powder

2

tsp

Cumin

1

tsp

Black Pepper

1

tsp

Salt

1/2

tsp

Oregano

1

tsp

Sugar

2

tsp

Garlic Powder

2

cup

Water
Instructions
In a large skillet, brown the ground beef

Drain fat and return beef to the skillet.

Add water and bring to a boil to get more of the fat to come out of the beef. Drain beef again.

Place in beef in a large pot and add all the ingredients,

Bring mixture to a boil, stirring often.

Reduce heat, cover and simmer for 2-3 hours stirring every 15 minutes.

Serve and enjoy!