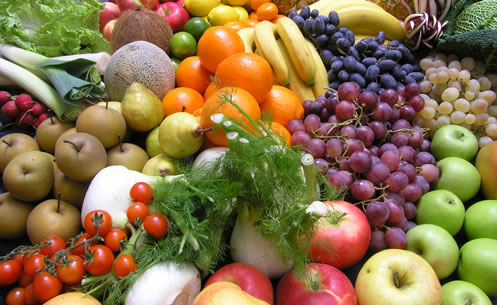 One of the biggest complaints I hear from "reluctant couponers" is that there are never coupons for the things that they buy…like produce (among other things).
Saving Money on Fruits and Vegetables?
:: Buy In Season and On Sale
There is a reason that fruits and vegetables taste best when they are at their lowest price…because they are in-season and the supply is plentiful.  I still remember the day that I danced a little jig when I saw asparagus on sale for $0.99/lb, and then send Brad out to buy 7 lbs (it IS a wonder that man hasn't left me yet!).  I knew that, not only was I getting the cheapest price, but because it was so cheap, it was in-season and therefore more tasty.
By buying in-season, you are also forcing yourself to expand your "recipe horizon". I admit that I would always rather cook my favorite summer veggies all year long. But if green beans are $4/lb and squash is $0.99/lb? I'm FINDING a recipe for that squash!
:: Shop Local (including roadside stands)
Local markets used to be a cute little over-priced indulgence. Now roadside stands are plentiful and often have fresher and more flavorful produce at cheaper prices. We have a produce stand near us that is so cheap, people line up, take a number and wait up to 30 minutes to buy their produce on a Saturday morning..and I won't even go NEAR that place the weekend before Thanksgiving!
:: Use Coupons
While I will admit that coupons for fresh produce are hard to find, they aren't impossible to find. Companies like Driscoll's Berries and Hass Avocados put out printable coupons quite frequently. Nature Sweet Tomatoes puts out coupons in the Sunday Inserts about every 8-10 weeks. Look for peelies on non-store-brand meat that says something like "Save $x on produce when you buy this package".
:: Buy More Frozen Produce
Since coupons for fresh produce are hard to find (and frankly? canned veggies skeeve me out), look in to buying more frozen produce. The technology to freeze produce has improved so much that frozen produce often retains more of the vitamins and nutrients than the fresh produce that you buy at the same supermarket. Think about it….you want green beans in February? The fresh ones are picked and then (in most cases) shipped hundreds or thousands of miles to your store (which takes time). But frozen vegetables are usually flash-frozen within hours of being picked.  And guess what?  There are usually TONS of coupons for frozen vegetables!  Green Giant, Hanover, Dole and Birds Eye put out enough coupons for you to get your 5-a-day on the cheap!
:: Aldi
I have to admit – the first time I ever visited an Aldi, I was completely underwhelmed. They had fantabulous prices on produce, but all of it was bruised or fuzzy. I complained to a few people here (that was back when about 20 people a day were reading this site) and they convinced me to give them another try. I did and I have not been disappointed since.
You aren't going to find organic starfruit or fresh ginger root at Aldi, but you WILL find unbeatable prices on the "staple produce items"…like bananas, berries, onions and more!
:: Consider Pick-Your-Own (but Check Your Prices)
Pick-Your-Own used to always be the best price on in-season produce. Unfortunately, that is no longer always the case. At the small family farm, you will probably get a good price. At the pick-your-own event that includes facepainting, hayrides and more? Not so much!
How do you save on produce?