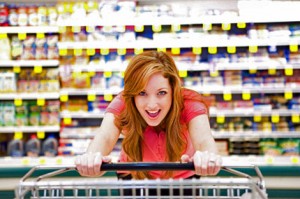 If you are a newbie to couponing, it is easy to go overboard once the excitement of all that free and nearly-free stuff sets in.
Here are some of the top mistakes many people make (and I made some of them myself!) when they start using coupons:
Sacrificing your family's health for the sake of the deal: The truth is, sometimes the best deals are for foods that can best be called "junk food". Your family eating habits should never be compromised just because you can get a good deal. Yes, grapes are more expensive than fruit snacks. That doesn't mean that you should stop buying grapes and start handing out only fruit snacks all the time. The savings on the fruit snacks is not worth forgoing the benefits of grapes.  Balance is the key!
Building too big of a stockpile: I know people who literally have 50 tubes of toothpaste. Do you know what the problem is? Toothpaste has an expiration date! Unless they are running a small dental office (or are the Duggars), there is no way that they can use that much toothpaste before it expires, especially when they continue to add to the stockpile each week/month. Extreme couponing is just that - extreme and there is no reason to go nuts each week. Certain things can always be found for free or nearly free almost every week, especially if you have a CVS, Rite Aid or Walgreens near you.
Buying things that your family normally doesn't need or like just because it is a "good deal": If your family doesn't normally eat/like Hamburger Helper (for example), it doesn't matter how good of a deal you can get on it. Unless you are planning on donating that Hamburger Helper and/or they are part of a moneymaker Catalina deal, spending even one penny on it is wasting money.
Letting good coupons expire: the two main reasons this happens? Not being organized or waiting too long for a better deal. I am a strong advocate of the coupon binder because it allows you to clearly see the expiration dates of all of your coupons. As for the waiting too long? Sure - it's great when you can combine, for example, a coupon for a free item with a BOGO sale to get both for free. But you can't count on that BOGO sale and do you know what they call an expired coupon for a free item? Recycling!
Letting couponing take over your life: As far as I am concerned, there is no amount of savings that is worthy of neglecting your family. As you get better, you get quicker, but in the meantime, don't try to figure out the deals yourself. That's where this site comes in. Make sure you keep checking the drug store deals and grocery store deals that I have posted to make sure you haven't missed anything!
Couponing and saving money should be a way of life...it should not BECOME your life.
What are some mistakes that you have made, or lessons you have learned?