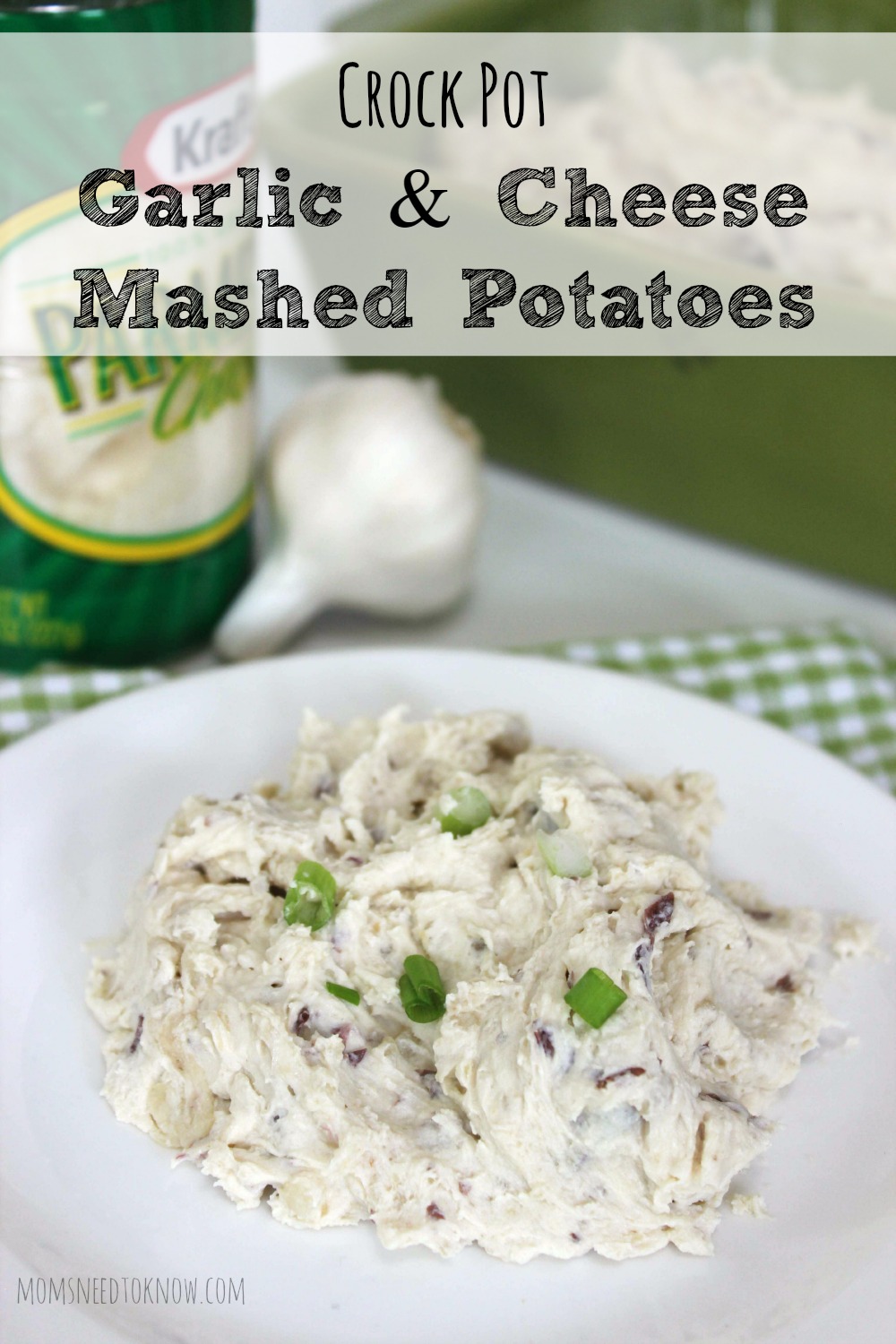 Remember when I said that I thought that baking potatoes in the crockpot was one of the dumbest things I had heard...until I actually tried it? Well - I now feel the same way about making mashed potatoes in the crockpot! It is my new favorite way to make mashed potatoes!
By making mashed potatoes in the crockpot, you clear up room on your stove top and eliminate having the pot of boiling water (and the splashing over the sides, creating a mess of your stove).
I like to make these with red potatoes and leave the skin on to get the nutrients that are in the skin, but this recipe can easily be made with "regular" potatoes with the skin removed. It took a few times for my kids to try the mashed potatoes when they could see the red "chunks" in the potatoes, but now they are used to it.
When I get around to the "mashing" portion, I just mash the garlic right in with the potatoes, but you can remove it if you don't like too much garlic. I almost believe the opposite - that you can never have too much garlic - but that's me (and my husband feels the same way so we will BOTH have "garlic breath")!
Anyway - to make them, you will need: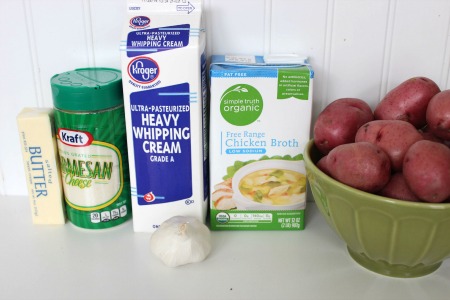 3 lb Red Potatoes
6 cloves Garlic
1 1/2 cup Chicken Broth
1 cup Heavy Cream
1/4 cup Butter
1/4 cup Grated Parmesan
1 tsp Salt
Fresh Ground Black Pepper
Making them is easy!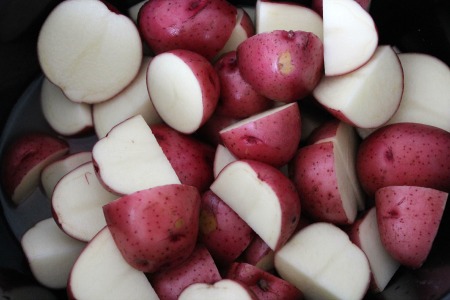 Simply wash and chop your potatoes and add them to your crockpot along with the chicken broth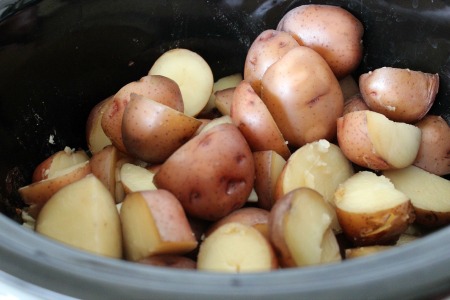 After about 6 hours (on low - or 3 hours in high), you are going to drain the liquid (but hold on to the liquid - don't dump it yet) and add the potatoes back to the crockpot and get to mashing them!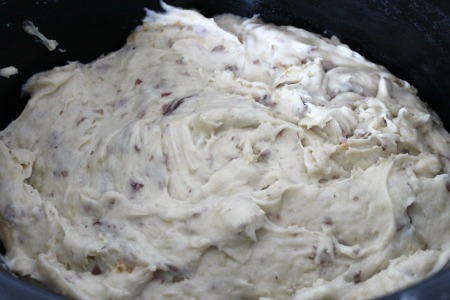 Heat up your cream and butter and add that to the potatoes along the parmesan. Add some of the reserved cooking liquid if you want them a little "looser". Then just keep them in the crockpot on "warm" until ready to serve!
Enjoy!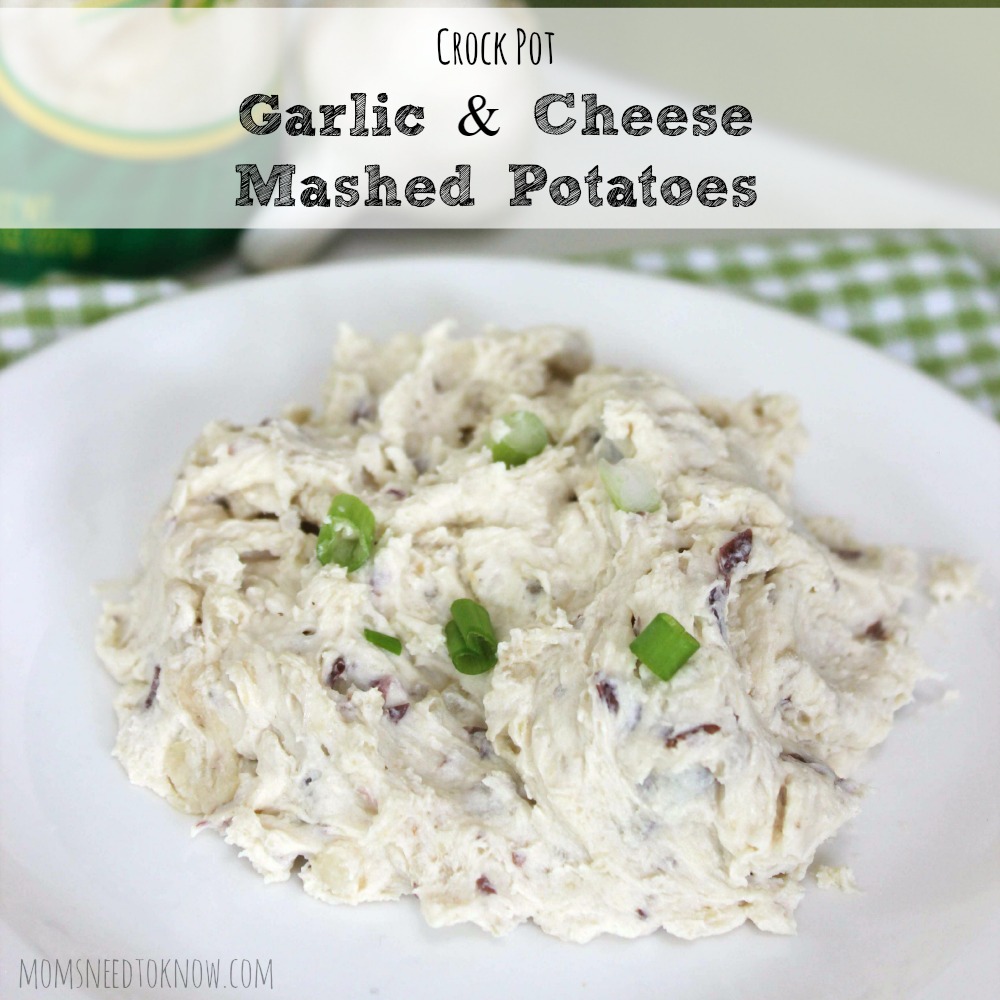 Crockpot Garlic and Cheese Mashed Potatoes
By Mindi
These creamy and cheesy garlic mashed potatoes are made right in your crockpot!
Yield - 6 servings
Preparation Time - 10 minutes
Cooking Time - 3 hours
Ingredients
3 lb Red Potatoes

6 cloves Garlic

1 1/2 cup Chicken Broth

1 cup Heavy Cream

1/4 cup Butter

1/4 cup Grated Parmesan

1 tsp Salt

Fresh Ground Black Pepper
Directions
Peel garlic cloves and place in slow cooker.
Chop potatoes into 1-2" pieces and add to slow cooker.
Add broth.
Cover and cook on low for 6-8 hours or high for 3-4 hours.
Drain potatoes and reserve liquid.
Put potatoes back in slow cooker and mash.
Heat cream and butter until hot and butter is nearly melted.
Add cream mixture, parmesan, salt and enough of the reserved liquid to reach desired consistency.
Add pepper to taste
Keep on warm until ready to serve.