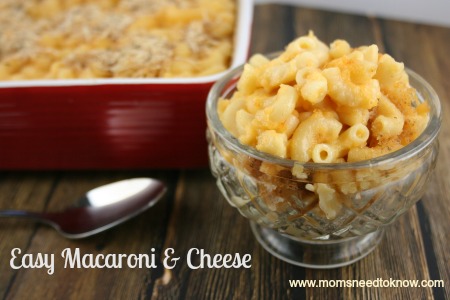 Macaroni & cheese is such a comfort food - and one that we love in our house. I was looking for an easy macaroni and cheese recipe, but most of them involved using canned and processed cheeses (or "cheese food", if you know what I mean) or soups. The recipes that didn't seem rely on those ingredients always turned out dry for me - never the creamy goodness that I want if I am going to splurge on a non-diet-friendly food like mac & cheese! I wanted a recipe that was both relatively easy and creamy!
Now - I know that when many of you think "easy", you think it should be able to be done in just a few simple steps. This recipe isn't one that can be thrown together in just 5 minutes (more like 25 minutes before you put it in the oven), but the steps are so simple that even the most inexperienced cook can do it and it is home cooking at it's most basic!
We don't tend to have Mac & Cheese as a meal all by itself, so I will divide it between 2 8" x 8" pans and freeze one for later (as a matter of fact, when I made it the last time, I tripled the recipe and made 1 for a side for dinner that night and 5 for the freezer!). If you want to have it as a dinner all by itself, just follow the directions below (and add a salad)!
Ingredients:
1 lb elbow pasta, cooked per pkg directions
1/2 cup Italian-style bread crumbs
1/3 cup Parmigiano-Reggiano cheese, grated
5 Tbsp Butter
1/4 cup Flour
3 1/2 cups Whole Milk (you can use less-fat milk, but it won't taste as "rich")
1 1/2  lb shredded Sharp Cheddar Cheese
2 tsp salt
1 tsp pepper
1/2 tsp ground nutmeg
Directions:
Preheat oven to 400 degrees. Bring a large pot of water to a boil
Mix bread crumbs and Parmigiano-Reggiano cheese in small bowl and set aside.
Heat butter in a separate pan large enough to hold everything (including the cooked macaroni).
Add flour and whisk until smooth. Cook the flour/butter mixture, whisking often, until it starts to brown (about 4 minutes).
Slowly add milk to butter/flour mixture, whisking constantly until very smooth and there are no lumps
Bring milk/flour/butter mixture to a boil, whisking often until it begins to steam.  Once it begins to steam, whisk constantly, ensuring that none of the mixture is sticking to the bottom of the pan.
Once your milk/flour/butter is boiling, drop the elbows in the boiling water, stirring to ensure that they don't stick together
Cook milk/flour/butter mixture  for another 10 minutes, whisking constantly. Add Cheddar cheese and stir until melted completely. Season with salt, pepper and nutmeg.
Drain pasta and add to cheese sauce.  Stir to combine
Spray bottom and sides of a 9" x 13"  baking dish with nonstick cooking spray.  Pour in pasta/cheese mixture.  Sprinkle bread crumb mixture on top.
Bake, uncovered, at 400 F for 15 - 20 minutes until the topping is browned and the macaroni & cheese is bubbling around the edges
Serve and enjoy!
And that's it!  Like I said, this is such an easy macaroni and cheese recipe and it can easily be frozen - just wrap it real well in aluminum foil to prevent freezer burn! It is just as easy to make a triple batch as it is to make a single batch. Here is what I did this past weekend (one was for dinner, the rest were heading to the freezer!)