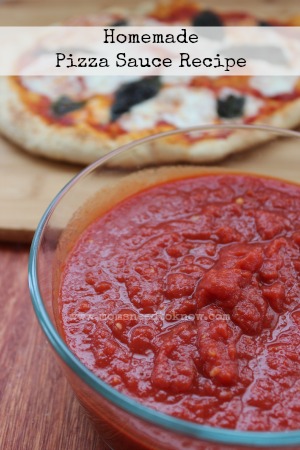 As long as you have a really good homemade pizza sauce recipe, there is really no reason to ever buy premade sauce in the stores ever again. Making it from scratch will help you avoid all those added sugars and preservatives. The best part is that this recipe makes enough to cover 4 pizzas - if you aren't going to use it all right away, just divide the sauce up in to 4 parts and freeze in individual portions and you will always have some homemade pizza sauce on hand!
Don't forget that this recipe is also great to use for a dipping sauce! Try dipping my Baked Mozzarella Sticks or my Pizza Pull Apart Bread in this sauce!
I like to use San Marzano tomatoes because I really think that they turn out the best for pizza sauce (as well as marinara sauce). You should be able to easily find them in your store (or you can always grow your own tomatoes), but don't stress if you can't - any can of crushed tomatoes will still work!
Ok - to make this homemade pizza sauce recipe, you will need:
Ingredients: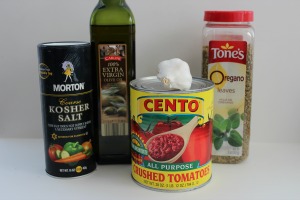 2 tbsp Extra Virgin Olive Oil
4 garlic cloves, minced or put through a garlic press
1 (28-ounce) can crushed San Marzano tomatoes
1/2 tsp Kosher Salt
1/2 tsp Dried Oregano
Directions:
In a medium saucepan heat the oil on medium heat.

Add the garlic and cook for a few minutes (be careful not to cook the garlic too much or it will turn bitter!).
Add crushed tomatoes, salt, and oregano to pan and bring to a boil.

Reduce heat and simmer 30 minutes.
Makes enough sauce for at least 4 pizzas.
Enjoy!