This blueberry lemon breakfast cake is a great way to wake up in the morning. Perfect with a cup of coffee or tea, even your children will love it!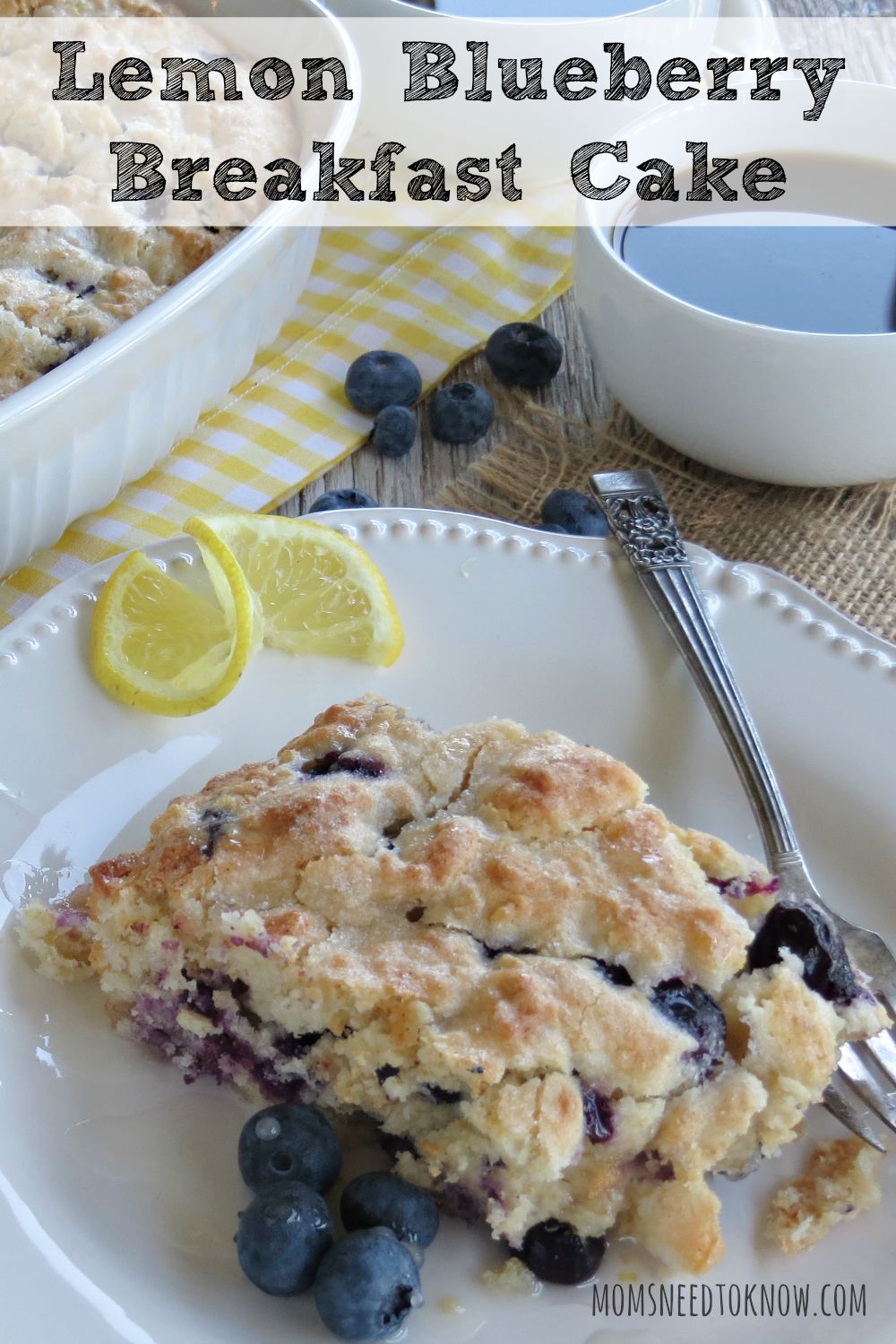 By now it should be no secret that breakfast is my favorite meal of the day. I make my homemade cinnamon rolls about every other weekend and my children just go nuts when I make my chocolate-glazed baked donuts. In theory, you have the rest of the day to work off whatever damage you do (calorie-wise) from breakfast (yes - I know that might not be accurate.....don't throw cold water on to my denial!)
One of things I love about this cake is how crispy the top gets, so I like to drizzle the glaze on each piece as I serve it. If you pour it all over the top, it'll loose some of that delicious crispiness!

I've made this blueberry lemon breakfast cake a few times now, and sometimes the top doesn't get as brown as others (despite cooking it exactly the same each time). So if you're like me and really love a crisp/crunchy top, you can broil it for 2-3 minutes after its done baking. If you do this, be sure to watch it very closely as it can burn in a matter of seconds. Also, don't leave the cake in the oven when you preheat the broiler or it will overbake. Remove the cake, preheat the broiler and then put it back in the oven (closer to the top) for 1-2 minutes.
If you really like lemon, you can use even more zest in the cake itself. This had a perfect balance of sweetness and lemon-y flavor for us, especially with the glaze.
If lemon isn't your thing (and I don't know how that could be - I absolutely love lemon!), you can do the exact same thing with orange or lime. Just follow the recipe exactly, and replace the zest and juice with the citrus fruit of your choice.
Scroll down for the recipe!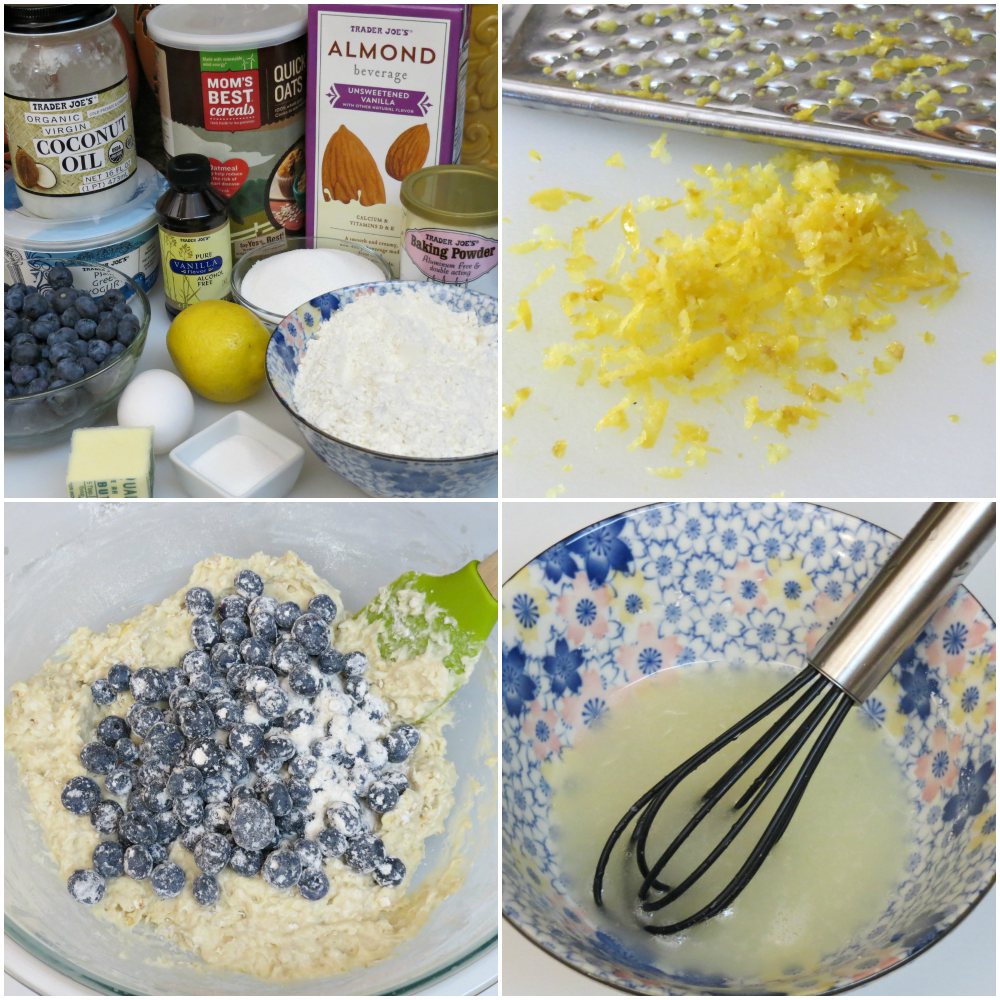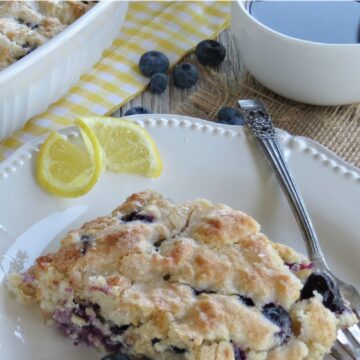 Blueberry Lemon Breakfast Cake
This blueberry-lemon breakfast cake is a great way to wake up in the morning. Perfect with a cup of coffee or tea, even your children will love it!
Print
Pin
Ingredients
Cake Ingredients
1/4

cup

coconut oil

2

tablespoons

butter

2/3

cup

white sugar

plus extra for the top

1

teaspoon

vanilla extract

1

large egg

1/2

cup

plain Greek yogurt

1/4

cup

almond milk

1

lemon

zested and juiced

1

cup

fresh blueberries

1.5

cups

all-purpose flour

1/2

cup

instant oats

1.5

teaspoons

baking powder

1/4

teaspoon

salt
Glaze Ingredients
1/2

cup

powdered sugar

1

tablespoon

fresh lemon juice

1-2

tablespoons

almond milk

or any milk
Instructions
Preheat your oven to 375°F

Use a fine grater to remove as much of the zest from the lemon as you can. Then squeeze all of the juice from the lemon and set aside. I got about a tablespoon of each from one large lemon.

In a large bowl, add the coconut oil, butter and sugar. Using the hand mixer, beat for 1 to 2 minutes or until smooth and pale in color.

Add the egg and the vanilla and beat for 1 to 2 minutes or until thoroughly combined.

Add the lemon zest, yogurt and almond milk and beat until combined.

In a separate bowl, toss the blueberries with 2 tablespoons of the flower.

In another separate bowl, add the flour, oatmeal, baking powder and salt. Use a spoon to thoroughly combine.

Add the dry ingredients to the wet ingredients and stir until just combined. Do not over mix.

Add the blueberries and gently fold them into the batter.

Spray a 1.5 quart shallow baking dish with nonstick cooking spray and pour the batter into the dish. Use a spatula to evenly spread it out. This is a thick batter, so it might be easier to use your fingertips to do this.

Sprinkle some sugar all over the top of the batter. I used exactly one tablespoon.

Bake for 25 to 30 minutes or until a toothpick inserted in the center comes out clean. I check mine at 20 minutes.

When the cake is done, remove it from the oven and allow it to cool for 15 to 20 minutes before serving.

Serve with the glaze drizzled over each piece individually as you serve it.
To make the glaze:
Whisk together the powdered sugar, one tablespoon of lemon juice and one tablespoon of almond milk. If you need more liquid, add more milk.

Microwave for about 20 seconds to break down the sugar. You don't want this to boil, so watch it closely. Sugar heats up VERY quickly, so it really only takes a few seconds to smooth it out.

Allow it to cool slightly before serving. It will thicken back up as it cools.