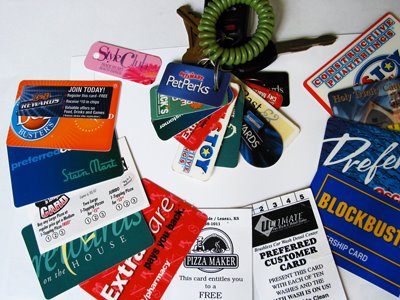 As I have mentioned many times…I'm old! I remember when the first grocery store in my area started requiring you to sign up for their store loyalty card in order to get the savings. I distinctly remember filling out the application with a fake phone number & address and storming out of the store with my purchases, vowing to never again shop at a store that required me to let them "track me" in order to get their advertised sales. I just read the previous few sentences to Brad as I was writing this and he laughed. He said that, up until that point, he can't remember ever seeing me that angry!
Times have changed..and store loyalty cards are more often than not the key to getting savings at not just the grocery stores, but many drug, pet, office supplies stores and even restaurants.
About Store Loyalty Cards:

Loyalty cards are almost always free: You can typically sign up right at the customer service desk (and occasionally the register) and start using your loyalty card on your first visit.  Make sure to check out the store website, because you will often get additional benefits (coupons, etc) by registering your card online!
Advertised deals: in most cases, if a store has a loyalty card, you will need it to get the advertised deals.  There are also many other incentives that you can only get with a loyalty card…like a free turkey or ham at the holidays, or gas deals based on your spending.
eCoupons: Many grocery stores offer electronic coupons that you can load to your store loyalty card. To read more about downloading and using eCoupons check out my Save Money With eCoupons post.
Looking for more Extreme Couponing tips? Make sure that you check out all the posts in my Coupon 101 and Coupon Ethics sections!