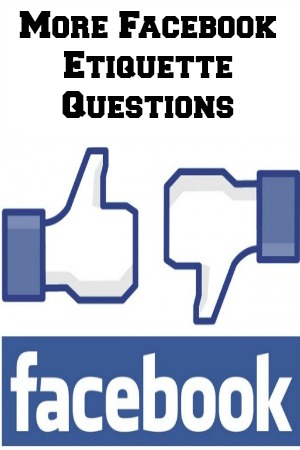 We talked about the 8 Facebook rules that you wish everyone would follow before, but there are so many other issues that can come up with Facebook! Who do you turn to for Facebook questions? It is not always an easy thing knowing what to do on Facebook. More importantly, knowing what not to do can be just as trying. Wouldn't it be awesome if there were some type of Facebook guru out there that had all the answers?
Fortunately for you, I am just that person. At least I am the best thing you have going right now, so pull up a chair. Here are some Facebook etiquette questions I have been asked along with my wise answers for your perusal:
How much sharing is too much where your own content is concerned?
I understand that need to put yourself out there. If we are creative, entrepreneurial or trying to build a brand, a Facebook presence is important. There is a fine line between putting your name and brand out there and swamping every friend you have with oceans of self-serving content. Perhaps you might consider sharing something of theirs on occasion. It is amazing what sharing the love can do for their patience when it comes to your content blasting their newsfeed every five minutes. Share, but be considerate of others.
Is it proper to stalk the pages of high school crushes on Facebook?
Most all of us have gone hunting an ex or two to see what they look like, who they are with and how ugly they have become since they were with us. While this might be fairly normal behavior, it is not without rules. If you are going to do this sort of thing, you have to follow the most important ones. Here are the rules that can't be broken:
Never spend more than five minutes looking at a picture. Then it becomes a bit weird.
If you feel the need to make a comment, aim it at the couple and not the ex personally.
Never listen to music that was popular back then...when you were with the ex.
Step away from the keyboard if you begin to yearn. Yearning for someone you have not spoken to since fifth grade is not going to end well….ever.
Should you share what you ate this morning, afternoon and evening?
Some people on Facebook like to post every single thing they eat. This is no big deal, but these same types generally post every single thing they do period. If they are not a chef and are including a recipe, they are probably just making me hungry for the fun of it. That is not good for anybody. What is it that they always say? Don't poke the bear? An occasional food post is fine, but I really don't need to hear about every last thing you eat.
Why is posting my naked, drunk by the poolside photos a bad thing on Facebook?
If I really have to answer this, you have no right to be on Facebook at all. Still, there are countless of these on Facebook for the world to see. The bottom line is that you should not be sharing anything that you would not want your mom or dad to see. Cause guess what?
They can probably see it too. Along with your boss, your pastor, your teachers, your friends, your boyfriend….get the picture?
Why is it a bad idea to "like" every status randomly for speed's sake?
There are those out there that simply have to like every single status update that comes through their feed. It is like a contest. I was looking over my Facebook feed and in just a short five minutes, I came across the following:
A mother talking about the loss of a child.
Someone that lost her pet of 15 years.
Someone that broke his leg.
A sister that was talking about her brother that died overseas.
What do these status updates have in common? People were liking them. What is likable about these posts? Nothing! They are terrible. These are the posts where you should comfort and take the time to type a kind word or two. If not that, then type nothing at all. Rather than think that people are actually that cruel, I have to believe that they simply were running through their status updates and trying "catch up" with all their likes. This is silly. Read the status updates and then decide what is appropriate.
Why do people say things on Facebook that they never would in real life?
Generally because they are cowards. If you are being brave behind a keyboard, that is just sad. Never say anything that you would not say face to face. You know who you are and you know if you are doing this. Stop it, because we usually know who you are too.
That concludes this particular session of Facebook etiquette questions. If you have any questions you would like answered, let me know in the comments below. I will try to include them next time around!