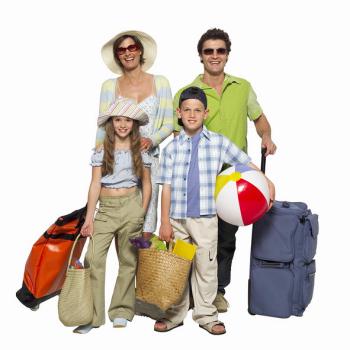 Sometimes the best solution to your vacation-planning problems (whether they be lack of time or money) is the simplest - consider a Staycation! The term "staycation" has really only been around for a few years, but people have been doing it forever. Simply put, a Staycation is finding things to do (preferably on the cheap) in your own area.
So how do you find inexpensive ways to make your Staycation memorable?
Check out Groupon for local deals: this will depend on your area, but I can always find fun activities for the family on Groupon. Everything from discounted go-kart rides to pottery painting to cheap tickets to local museums and zoos. Just make sure that you check the expiration dates of your Groupon deals as well as any exclusions.
Google "Free Things To Do" for your town as well as surrounding towns and cities: this is going to be "hit or miss", depending on where you live and many will be outdated, but you might find a few fun things to do.
Head to the lobby of your local hotel: in most cases, there will be a rack SOMEWHERE in the lobby of brochures for things to do in your area. Some will be expensive and some won't be, but I bet that you will find some things to do in your area that you didn't realize existed!
Plan on 2-3 Big Fun Days and the rest of the time being low-key fun: My husband gets 3 weeks vacation per year and our budget won't allow for 3 out-of-town vacations. We ALWAYS do at least 1 of those weeks as a Staycation. One day we may just take the kids fishing (well, actually, Brad takes them fishing...I don't do that), the next may be a day at Hershey Park (with a coupon code, of course). Another may be heading to the Rennaissance Fair...and yet another may just be having a water balloon fight with the neighbors! Check out some of these budget-friendly amusement parks to see if any are near you!
Check out state parks and local wildlife preserves: many state parks have great websites detailing all the trails, upcoming activities and ideas for you to enjoy the park.
Look for hyper-local blogs for your area: Where I live, we have 2 great blogs (Chester County Moms and Montgomery County Moms - they also happen to be run by a friend of mine) that keep a watchful eye on everything to do in the area. They even have a great calendar of events that list everything from wine-tastings to library events in the area. Google "[Your county or state] Moms" or "[Your county or state] blog" and there is a very good chance that you will find a new resource not just for your Staycation, but for the rest of the year!
Subscribe to local magazines or newspapers (or go their website): Many of the events listed in their "community happenings" section are paid ads, so they will also be on the website as well. In the summer, you will find strawberry festivals, peach festivals, (name your local produce) festivals, but you will also find details on local historic tours, restaurant events and more!
What are your best tips for a Staycation?