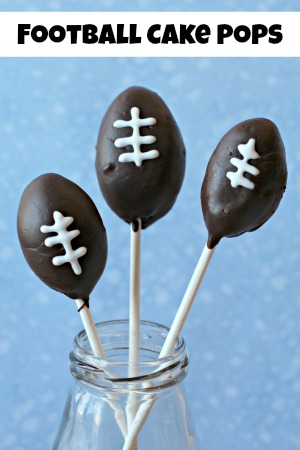 Looking for a last minute football party snack that you can throw together with pantry foods? Try these Football Cake Pops!
These are made the same as my Oreo Truffles recipe, except that you want to shape then in an oval before freezing.
You will need:
1 package of Oreos + 1 "line" of a 2nd package of Oreos (they typically come in packages of 3 rows…you want 1 regular-size package + 1/3 of another package)
1 8 oz pkg cream cheese
1 bag of dark chocolate candy melts
Candy Melt Writer in white
Directions:
Prepare mixture according to the Oreo Truffles Recipe
Use a cookie scoop to portion out balls and shape with your hands in to footballs
Place on a parchment-lined cookie sheet and in to the freezer to set for at least 30 minutes
Remove balls from freezer and insert a popsicle stick in one end.
Melt candy melts according to package directions, stirring every 30 seconds until chocolate is warm and smooth.
Dip pops in to chocolate, and twirl to remove excess chocolate.
Place pops on parchment-lined cookie sheet and return to the freezer until chocolate is set.
Warm Candy Melt Writer according to directions.
Use Candy Melt writer to pipe on lacing to the footballs.
Enjoy!
What are your favorite Game Day Foods?