This no-bake Cherry Chocolate Chip Cheesecake is absolutely delicious and easy to make. With a crust made from crushed Oreos, it is sure to please!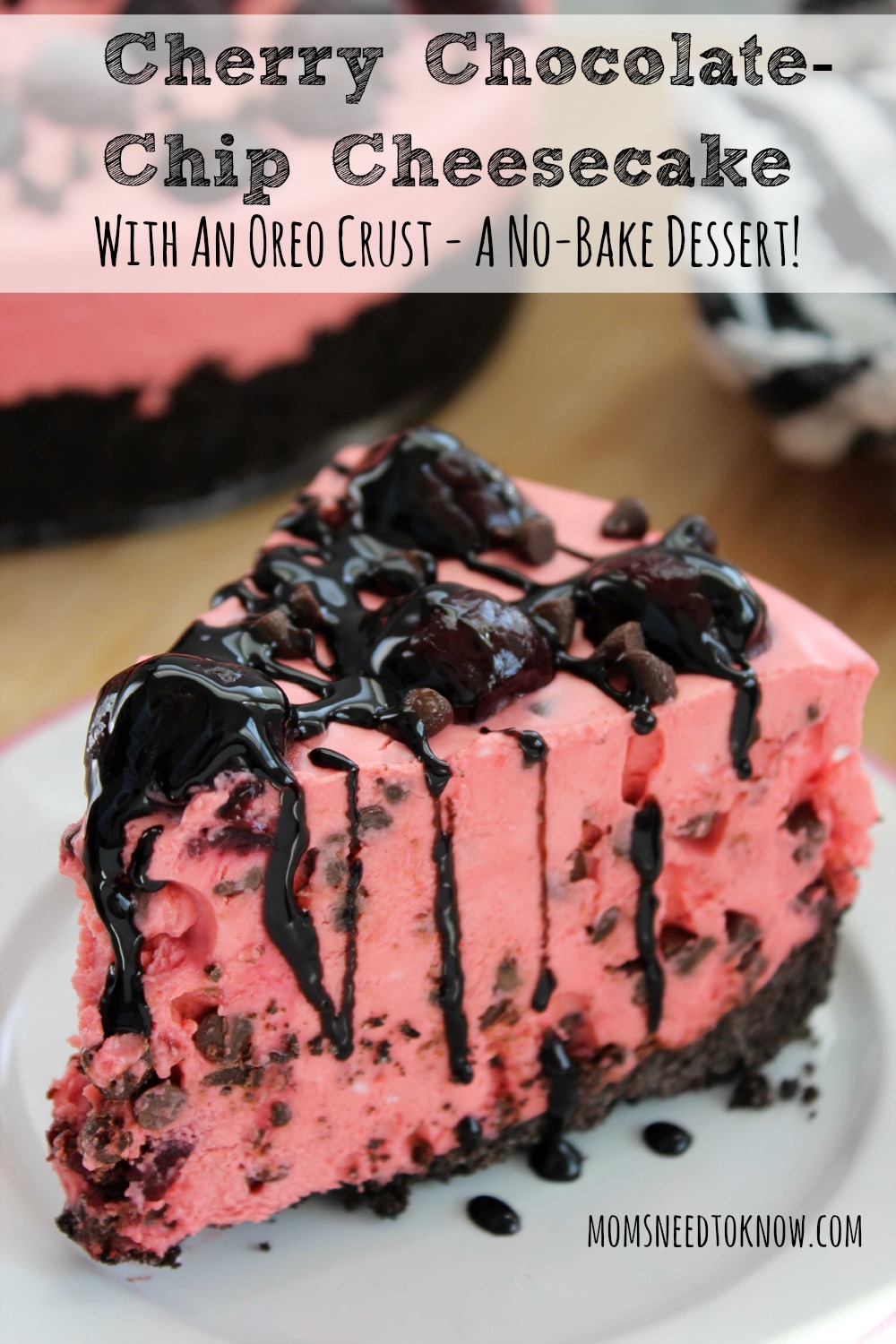 I think that by now it is well-documented that we have a little bit of an Oreo obsession in my house (at least, as far as my kids are concerned).  I even have a whole Pinterest board dedicated to Oreo recipes so that I don't run out of ideas! (are you following me on Pinterest yet?).  My children beg me to make my Oreo Truffles recipe all the time and they just love helping to make our Oreo Poke Cake (although there is usually an argument over which one of them gets to do the "poking")!
I shared with you my recipe for a Cherry Chocolate Chip pie before, but since we have been making a move to eating more healthy in the house (yes -  know that is a funny thing to write in a post that also includes a deep love of Oreos....we all have our weaknesses!), I wanted a version that didn't rely on canned pie filling and frozen non-dairy whipped topping - one that includes slightly fewer processed ingredients.
This No Bake Cherry Chocolate Chip Cheesecake With Oreo Crust recipe combines my homemade whipped cream recipe with fresh-frozen cherries.  You can use fresh whole cherries if you like, but then you will need to pit them yourself.  I have had good luck at Wegmans with them always having pitted cherries with no sugar added in the frozen section - often at a cheaper price per pound than fresh.  Better still, once the cherries have thawed, they are a little "soggy", which I think is a better consistency in this pie.  Since I usually have frozen cherries in my freezer (as well as all the other ingredients), I can make this cherry chocolate chip cheesecake with very little notice!
Anyway....since you are using gelatin that needs time to firm, this isn't a recipe that you can whip up at the last minute.  But if you have a few hours to let the gelatin set, this cherry chocolate chip cheesecake is sure to be a hit with your family and friends! Just make it in the morning for a late-afternoon or evening party and you should be good to go!
Scroll down for the recipe!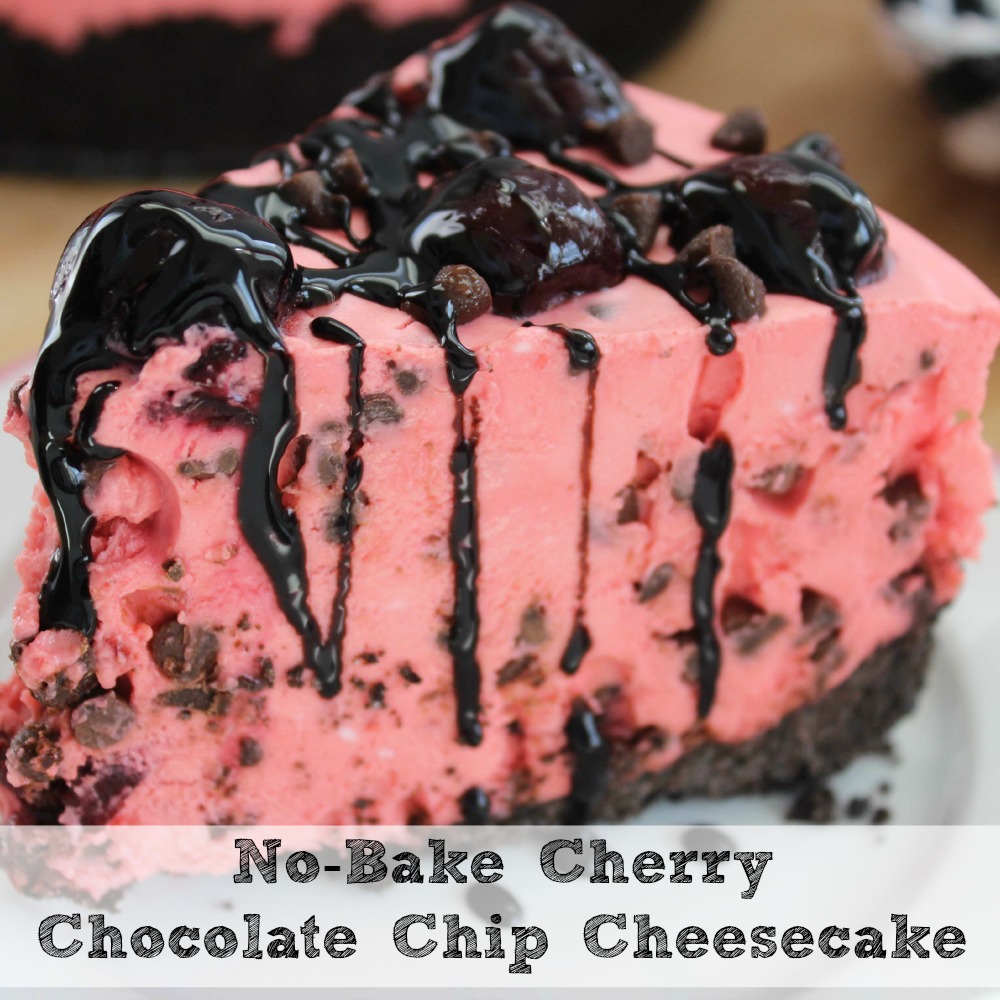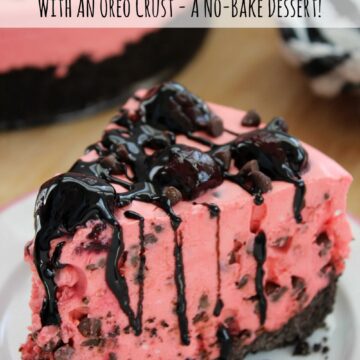 Ingredients
For the Crust
22

Oreo Cookies

or chocolate sandwich cookies of your choice

3

Tbsp

butter

melted

1

Tbsp

sugar
For the Filling
16

oz

2 packages cream cheese, softened

16

oz

heavy cream

1

cup

sugar

1/4

cup

powdered sugar

1

large box

6 oz cherry-flavored gelatin

12

oz

frozen cherries

thawed

2

cups

semisweet chocolate chips + additional for garnish
Instructions
Make the crust
Crush Oreos in a food processor

Add melted butter and sugar and stir to combine

Press mixture in to the bottom and halfway up the sides of a springform pan.

Place pan in the refrigerator for at least 30 minutes to chill
Make the Filling
Beat together the cream cheese and the sugar until well-blended. Set aside

In a separate bowl dissolve the gelatin with 1 1/2 cup boiling water. Set aside to cool.

Dice about 2/3 of the cherries.

Whip together the heavy cream and powdered sugar until soft peaks form.

Once the gelatin has begun to thicken, fold the whipped cream in to the gelatin.

Fold the cream cheese mixture in to the whipped cream mixture.

Fold in the diced cherries and chocolate chips and gently stir until well-blended.

Pour the filling in to the springform pan and garnish with the remaining cherries and extra chocolate chips.

Refrigerate for 4 hours or until firm
cherry chocolate chip cheesecake