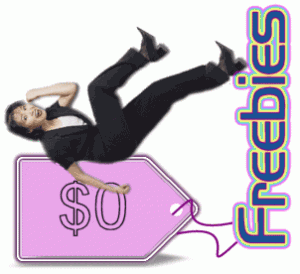 Le Sigh.....
A few minutes ago, Dena posted a response that she got from the Snikiddy Snacks people saying that the post that directed her to the freebie was a "fraudulent post".  I've been tossing around a post about this issue in my head for a few days now, but with Dena posting the response from Snikiddy, this post is pretty much writing itself!
Dear Companies,
Welcome to The Internets.
Please be aware that the people who are already your loyal customers are not the only ones who can see what is posted on your website.  Please also be aware that if you post a deal or freebie on your site, there is a good chance that people will find it.  Please also be aware that if those of us who hunt out and write about freebies find it, we will post about it.
This means that if we post it, they will come.
In the last week, TWO companies have used the words "fraudulent posting" (or a form of it) when they ran out of supplies (here is the other one).  Bloggers writing about a deal that you post on your public website or Facebook Fan Page is not a fraudulent posting.  Unless the fine print on your freebie offer says "valid only if you happen to stumble upon this deal completely on your own and this is not posted anywhere else on The Internets", it's not fraudulent.
Hey - I know that there are small businesses out there who never DREAMED that this would happen.  They are going along with a nice little customer base and in an effort to expand that customer base, they decide to give out a few freebies.  Then the right site picks it up and BAM!  Fifteen thousand requests in one day.  And I understand that small business oftentimes just don't HAVE that ability to fulfill those orders without serious financial harm to themselves.
But for goodness sakes, take some responsibility for your own actions, because I really resent when companies call the passing on of information publicly available on The Internets "fraudulent".
Check your statmeters for a while.  Check your email filters, preferably several times a day.  If you are used to getting 10 emails a day or 1000 page views a day and one day those numbers increase by a factor of 300, there's a chance something might be amiss.  PULL THE OFFER if you have to.  But please don't wait until you have 15,000 names, addresses and emails to send everyone an email or Facebook Status Update that says that the big bad bloggers messed up your deal by posting it.
I'm doing my job by posting the deals that I find for my readers.  Please do your job by monitoring your website when you have a deal posted on your site.
Most of us know that Freebies are a gift, not a right.  I see far more people upset, not that the offer has been pulled, but that it was pulled and cancelled AFTER you collected personal information.
In the case of Snikiddy, they tried to make it right by offering a $1 coupon.  Thank you Snikiddy.
And please remember this for the next time that you post a deal on your publicly available website.  If you want to offer a freebie and you can only afford to offer a few hundred of them....then just SAY that in the freebie offering and monitor the number of requests you get and update the page as soon as you are sold out of freebies.  We won't mind when you lay your cards on the table.  We actually prefer it that way!
Thanks very much!
Mindi
(well - this got a little longer than I thought it would.  Don't think that I only have things to say about the companies that offer freebies.  We customers have a few things to consider as well.  Look for that post tomorrow!)