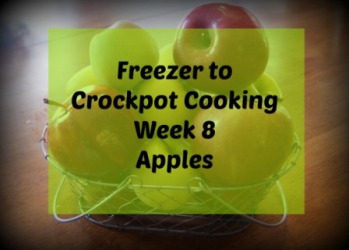 Welcome back to Freezer to Crockpot Cooking! This week we are focusing on Apple recipes. These are 4 delicious apple recipes that are a great go to when you need a simple, home cooked dessert for visitors or just a comforting taste of fall to top off a family dinner.
These recipes are so versatile, as there are toppings, fillings, and standalone desserts in this week's freezer to crockpot meals. Make double or triple batches and be ready all through the fall for filing your home with delicious fall smells, and your belly with amazing flavors.
This week we will be making:
Slow Cooker Apple Crisp
Slow Cooker Applesauce
Slow Cooker "Fried" Apples
Slow Cooker Baked Apples
Ok! It's time to get shopping! This week, you will need to buy:
4-6 large cooking apples
2-5lb bags of cooking apples (Fuji Gala, Macintosh, Granny Smith, Jonathan, Cortland, Winesap, Braeburn, and Pippin are all great choices for cooking/baking apples.)
1 box golden raisins
1 Stick of Butter
Pantry Items - If you are missing any of these ingredients in your pantry be sure to add them to your shopping list
Brown sugar
Granulated sugar
Cinnamon
Nutmeg
Ginger
Flour
Cornstarch
Lemon juice
Be sure to check back on Friday for the complete recipes and instructions!
Need more slow cooker recipes that are great for freezer cooking? See all of the other weeks in this series: