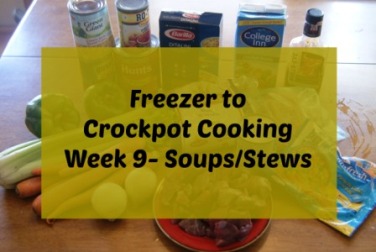 Welcome back to Freezer to Crockpot cooking! This is our final week of the series and this week we are tackling Crockpot Soup Recipes! Rich and hearty, these are the perfect quick and easy meals to have ready to go for when the weather starts getting a little cooler!
Pair these recipes with my homemade beer bread and a salad and you have a complete meal!
This week we will be making:
Slow Cooker Beef Vegetable Soup
Slow Cooker Chicken Noodle Soup
Slow Cooker Black Bean Taco Soup
Slow Cooker Brunswick Stew
Ok - let's get shopping!
1 bunch of celery
Small bag Carrots
1 bag frozen mixed vegetables
1 onion
1 green bell pepper
1/3 lb. ground pork
1 lb. ground beef
1 lb. stew meat
1 can of black beans
1 oz. can of Rotel diced tomatoes, mild
1 -28 oz. can stewed tomatoes
1- 14 oz. can tomato sauce
5 large chicken breasts
1 can cream corn
1 bag egg noodles
1 box of ditalini noodles
1 bag of frozen mixed vegetables
1 bag frozen corn
1-18 oz. barbeque sauce-hickory is best
Pantry Items - If you don't have these items on hand add them to your shopping list
Fresh garlic
Chicken broth
Beef broth
Cumin
Chili powder
sugar
Salt
Pepper
Be sure to come back on Friday for the complete instructions and to see how to put it all together!
Need more slow cooker recipes that are great for freezer cooking? See all of the other weeks in this series: