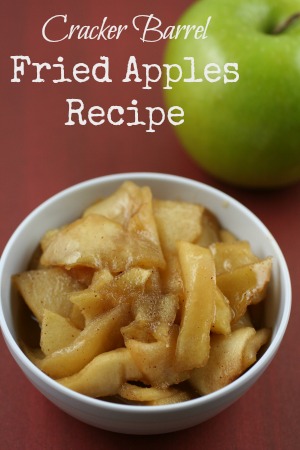 I just love the fried apples at Cracker Barrel, but not only do I not really have a Cracker Barrel near me, the entire place is just a huge "danger zone" for me. Between the gift store and all the delicious foods, I could spend a small fortune in money and calories there!
But I do like to have some indulgences once in a while and I wanted a fried apples recipe that would come pretty close to the Cracker Barrel recipe and I think this is it!
This fried apples recipe makes a great side dish for almost any pork recipe (there is just something about pork & apples that just works!) or you can use this recipe in place of canned apple pie filling in my caramel apple cheesecake recipe or would make a great topping for French Toast
You will need:
8 medium Granny Smith apples, peeled, cored and sliced
3 tbsp freshly juiced lemon juice
1/4 cup butter
1/2 cup brown sugar
1/2 teaspoon cinnamon
1/8 teaspoon nutmeg
Instructions:
Toss apples with lemon juice to coat. This will help prevent browning.
Melt butter in a heavy skillet. Add apples, brown sugar, cinnamon and nutmeg.
Stir and cook until bubbling.
Reduce heat, cover and cook until apples are tender.
Serve and enjoy!