There are so many benefits to grinding my own flour - least of all is the cost! The Mockmill for  Kitchen Aid makes it so easy to do at a reduced cost!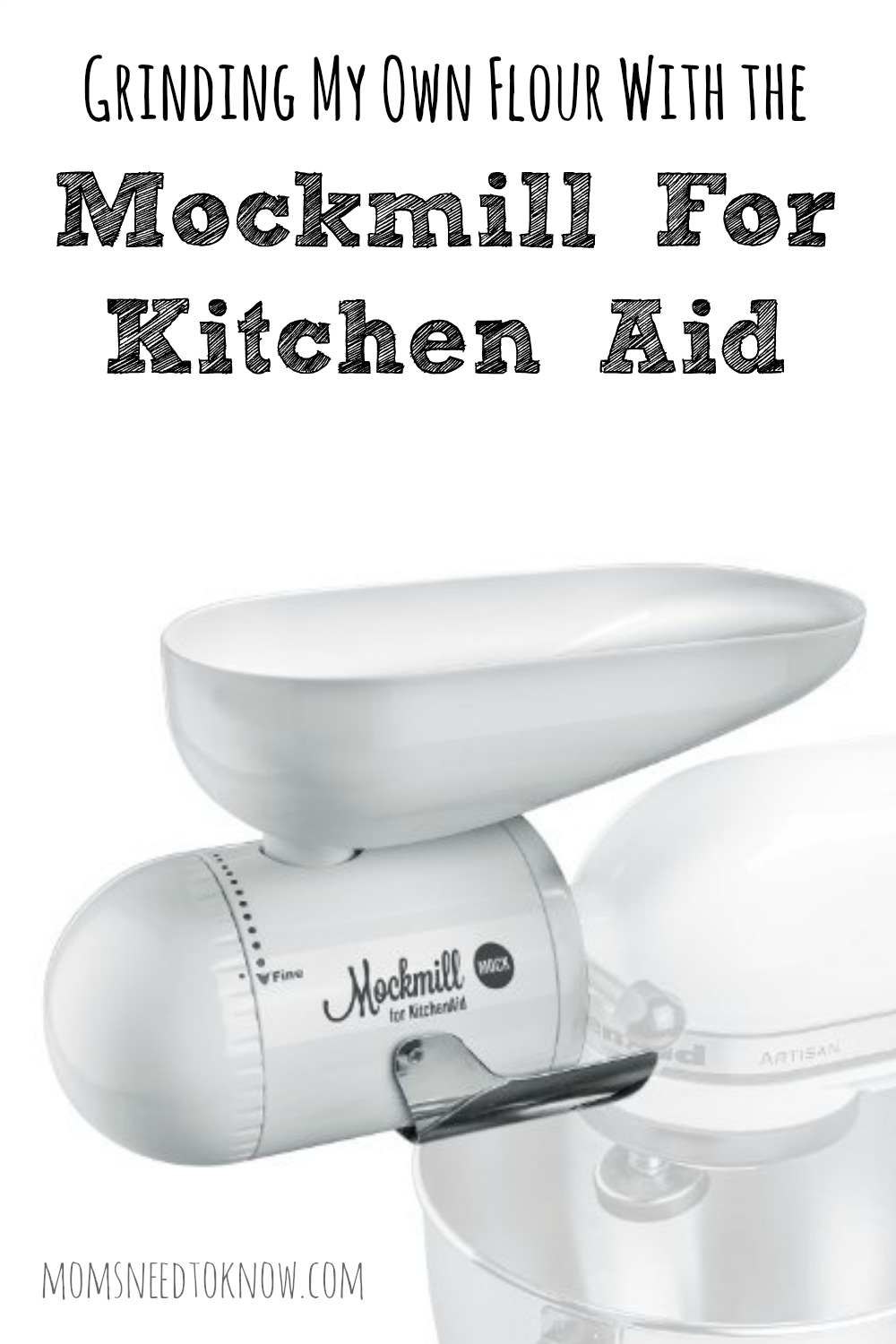 As my long-time readers know, Moms Need To Know started as a couponing website.  That was back in 2008 when our budget was so tight, I didn't much care what we ate, as long as it was filling and I could get it cheap (or free).
Well, 8 years later, our budget has much more room in it and I very much care about what we are eating.  I changed the focus away from couponing and now am all about making healthy and delicious meals for my family.  We started juicing and I am making more foods from scratch than ever!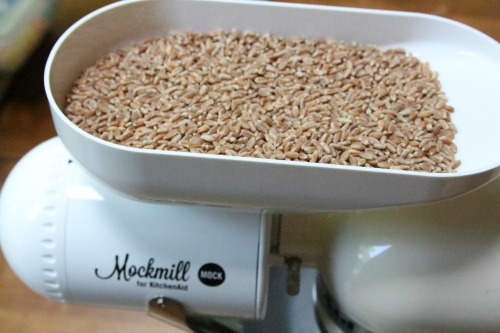 One of my friends started grinding her own flours about 2 years ago and I was intrigued by it.  I liked the idea of being able to grind my own flour. But when I looked in to buying a grain mill, I was shocked to see that the ones that had even halfway-decent reviews were $300 and up - not to mention that it would be another bulky appliance taking up space on my counter or in my cabinets.
Enter the Mockmill grain mill attachment for the Kitchen Aid.
I love my Kitchen Aid.  It was a wedding gift 22 years ago and I am not kidding when I say that I use it 5 times per week.  They have come out with many attachments for it over the years, but never one (that I know of) that would mill grains for you.
But let's back up for a minute...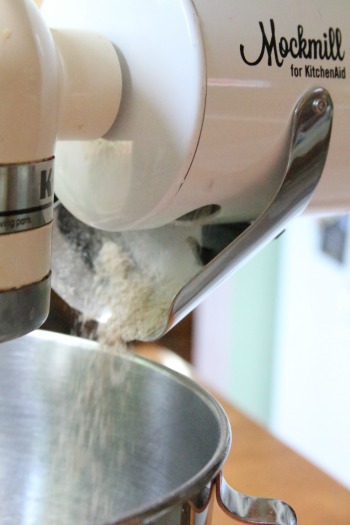 Why Should You Mill Your Own Flour?
It's cheaper than store-bought organic flours - wander the organic section of your supermarket and you will be shocked at the price of "regular" organic flours, much less any flours people may need to use for "allergy diets".
It leaves all the nutrients in your flour that processing removes - you know why wheat germ is sold separately from wheat flour?  Because wheat germ spoils much more quickly than the flour does and the flour would go rancid.  But that wheat germ is a fabulous source of vitamins, minerals and enzymes.
It just tastes better - I have absolutely noticed that some of the same recipes that I have made using freshly-ground flour taste much better than when I was using store-brand or even "premium" flours.
No preservatives - let's face it - we all know that, in order for supermarket flour to be shelf-stable, they have to add preservatives to it.  When I grind my own flour, I know exactly what I am getting!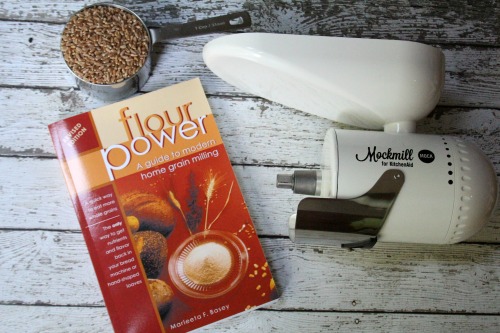 So why use a Mockmill?
The cost - the Mockmill is less expensive than conventional grain mills, without sacrificing quality.  It uses self-sharpening stones to grind your flour which gives you a consistent grain, without having to worry about the quality reducing over time (and don't worry - scroll down for a great deal on the Mockmill!)
The convenience - the Mockmill grinds your wheat berries in very little time.  I can throw 2 cups of wheat berries (which gives me about 4 cups of flour) in my Mockmill, set my KitchenAid to speed 6, and it is done in about 3 minutes (seriously - I set my timer on my iPhone!). I can usually grind the flour I need in less time than it takes to pull out the rest of my ingredients!
The space-saving - the Mockmill is much smaller than other millers.  Even if you keep it in the box when you aren't using it (like I do for all my Kitchen Aid attachments), it takes up less space than traditional grain mills
The fun - Honestly?  It was just FUN to grind my own flour.  I felt like I was living in the 1800s.  Although since I was doing it with my high-powered mixer and timing it using my iPhone, maybe not so much.  But seriously - it is just COOL to grind your own flour!
And the best reason to use a Mockmill? The Deal!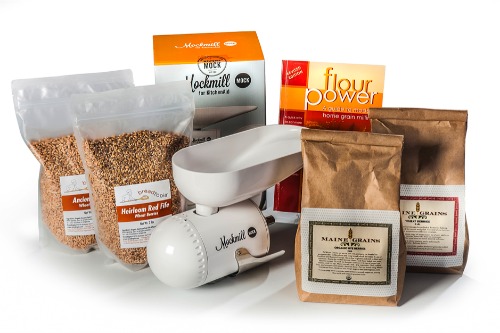 I have partnered with Mockmill to bring you an incredible $80 off not just the Mockmill, but an entire starter kit for less than the cost of the mill at many online websites!
There are 3 kits available (including a gluten-free kit), normally priced at $259, but when you use the code: momsneedtoknow you will get $80 off, bringing the cost down to just $179!  This sale is good through August 31, 2016.
The "standard kit" includes:
Mockmill Grain Milling Attachment for Stand Mixers
2 lbs Each of the following quality whole grain berries
Maine Grains Organic Rye Berries
Breadtopia Ancient Spelt Wheat Berries
Breadtopia Heirloom Red Fife Wheat Berries
Maine Grains Organic Oat Groats
"Flour Power" by Marleeta Basey, a comprehensive introduction to the benefits of home milling.
The mill alone sells for $199 on Amazon, so this is giving you $10 off that price AND some grains and a comprehensive book of tips and recipes to get you started!
I am still new to grinding my own flour but now, with the Mockmill, I don't see myself going back to buying flour in the stores.  It's just too stinkin' easy (and better for us) when we grind it ourselves!
So head on over to the Mockmill website before 8/31/2016 and use the code:  momsneedtoknow to get an entire starter kit for just $179!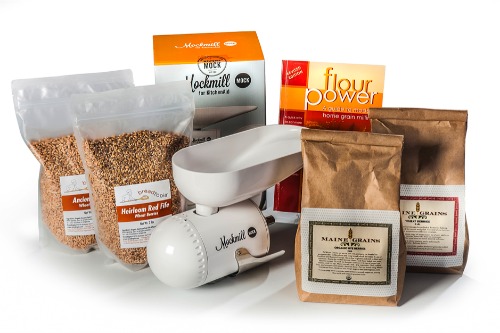 Disclosure:  I received a free Mockmill and a copy of "Flour Power" in exchange for this post, but the opinions are entirely my own.  I was going to start grinding my own flour eventually anyway.  The people at Mockmill just helped me to speed up the process!
Grinding My Own Flour With A Mockmill For KitchenAid