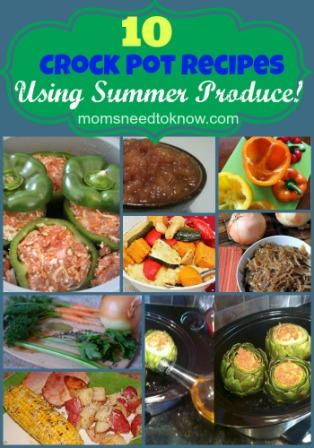 Just because it is hot outside doesn't mean you can't cook some wonderful dishes! Using a crock pot allows you cook up your favorite recipes without heating up the house! Here are ten dishes that should be on your list of recipes to try this summer.
Ten Summer Crock Pot Recipes
1. Crock Pot Stuffed Peppers - Bell Peppers are the perfect vegetable to use in a crock pot especially during the summer months. You can get creative with this recipe and stuff your bell peppers with just about anything you want.
2. Chicken Avocado Lime Soup - A refreshing twist on traditional chicken soup. This recipe is perfect for the summer evenings when you want a warm bowl of soup, but don't want to heat up the house.
3. Crock Pot Artichokes - People seem to think that you can flavor artichokes, but this couldn't be further from the truth. This recipe gives you an awesome recipe to have tasty artichokes.
4. Crock Pot Applesauce - Apples are in season year-round and provide a great snack for children. This recipe shows you how to make applesauce in the crockpot...genius!
5. Crock Pot Chicken Stock - You can use chicken stock for a variety of recipes. Fresh chicken stock made with fresh produce is much more affordable and healthier than store-bought stock. This post shows you how to use your crock pot to make fresh stock using fresh produce.
6. Crock Pot Corn on the Cob - Want perfect corn on the cob every time? With this recipe you should be able to achieve just that!
7. Roasted Crock Pot Veggies - Usually I do roasted vegetables in the oven but during the summer months that really heats up the house. This post shows you how to have perfectly roasted vegetables in the crock pot.
8. Caramelized Onions in the Crock Pot - Caramelized onions can be added to so many different recipes. You can even eat them as a snack. This recipe is simple and only requires two ingredients!
9. Vegetarian Stuffed Peppers - This recipe has an option for vegetarian and non-vegetarian. You can swap out the Monterey Jack cheese for Pepper Jack and add a little spice to it.
10. Chicken & Broccoli Pasta (Crock Pot) - Fresh broccoli mixed with a chicken pasta is a great dish to serve your family. You won't have to stand over the stove all day either, this recipe uses the crock pot.