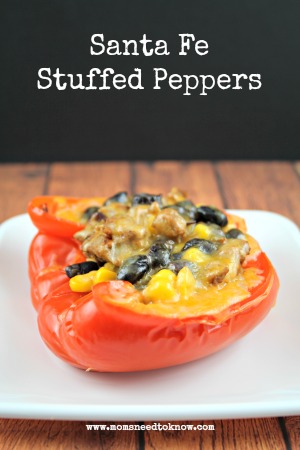 With the new year upon us, people make all sorts of resolutions. Whether you are looking to lose weight or just eat better, having some healthy dinner recipes in your collection is a must! These Santa Fe-Inspired stuffed peppers use ground turkey instead of beef making for a much lighter taste. Most of the recipes that I saw included rice in the recipe, but I wanted to keep the simple carbs low. Then I saw this recipe that replaced the rice with black beans and I knew that was the recipe for me!
Of course, if you don't like black beans, you can always cook up about 2 cups (cooked) rice and add that instead of the black beans.  Just try to use brown rice.  Even if your family typically won't eat brown rice by itself, you can probably easily sneak it in to this recipe!
Of course, nothing is ever simple in my house and I had to leave the black beans out for everyone but me (my family can be very picky eaters). I ended up adding some more corn to their portions.  This ended up being a recipe that I could eat every week and one that I will definitely be adding to my healthy dinner recipes lineup!  We had some extra filling left over after stuffing the peppers and I warmed it up the next day and I just tossed it over some romaine lettuce and added a little bit of homemade salsa - it was delicious!
One last thing - this is a dish that needs to be served almost immediately.  While it was perfect when we ate it for dinner, we had 2 portions left over, with one being held for Brad's friend (he was eager to try it).  He didn't end up coming to the house until about an hour after we had eaten and by that time, the peppers  had released more of their juices and it got a little watery.
Scroll down for complete directions!
Don't forget to check out these other healthy dinner recipes:
Ingredients
1

lb

93% lean ground turkey

1/2

cups

canned black beans

rinsed and drained

3/4

cups

frozen corn

1

pickled jalapeno pepper

finely chopped

1

large diced tomato

2

cloves

garlic

minced (I just run them through a garlic press)

3

tbsp

chopped onion

2

tbsp

chopped cilantro

plus more for garnish

1 - 2

tsp

cumin

start with 1 tsp, or if you like cumin, just add both tsp!

salt & pepper to taste

3

red bell peppers

cut in half lengthwise and stem and seeds removed

1/2

cup

reduced sodium

fat free chicken broth

1/2

cup

shredded Cheddar-Jack cheese blend

1

tbsp

chopped scallions

for garnish
Instructions
In a large skillet, brown the ground turkey, breaking it up as much as possible. Season with salt & pepper.

Once turkey is cooked, drain most (not all) of the excess fat and return turkey to the pan.

Add onion, garlic, black beans, cilantro, jalapeno pepper, tomatoes and cumin.

Cover and simmer on low for about 10 minutes.

Remove lid, add frozen corn and stir and cook until the corn is heater through and all the liquid is reduced.

Preheat oven to 350

Fill red pepper halves (that you have previously seeded and removed the stem) with the turkey mixture and place in an oven-proof dish.

Add chicken broth to the bottom of the dish and cover pan tightly with foil.

Bake for about 35-40 minutes until peppers begin to soften.

Remove foil and top each pepper with cheese.

Return dish to the oven (uncovered) and bake about another 5 minutes or until the cheese is melted.

Serve immediately.
Nutrition