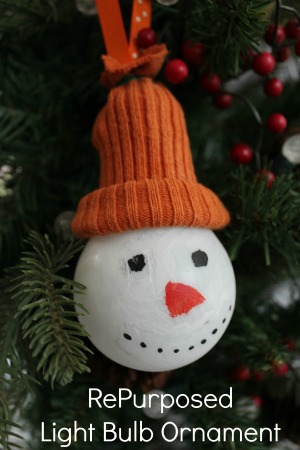 Before we had children, our Christmas tree was decorated with fine crystal, silver and china ornaments and no homemade Christmas ornaments in sight! Now that my children are old enugh to make me homemade Christmas ornaments, I treasure every ornament that we make together or they bring home from school. One day we will get back to the nice, elegant tree that we had in our "2 incomes, no kids days", but for now, I am quite happy with my tree that looks like a craft store exploded!
This light bulb ornament is a great craft to make with the kids and a way to repurpose light bulbs. Of course, you will need to pack them away carefully when you take down your tree because...well....they are light bulbs! But we just save the bubble wrap from all the gifts that we order online for the fragile ornaments!
The best part is that you probably have most of the supplies needed laying around the house (if you have kids).  A light bulb, twist ties, ribbon, an infant sock (they grow out of them so quickly) and even paints.
To make them, you will need: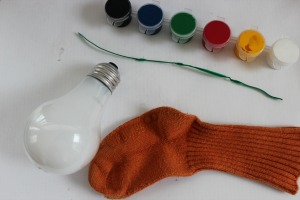 SUPPLIES
Incandescent Light Bulb
Ribbon
Infant Sock
Twist Tie
White, Orange & Black Acrylic Paint
DIRECTIONS
Paint bulb white. Allow to dry.
Paint Orange carrot for nose.  Paint Black coal eyes and mouth. (if you have a problem keeping a steady hand holding the light bulb while you do this, simply rest the light bulb on a clothes pin or something similar so you only have to worry about keeping your "painting hand" steady)  Allow to dry.

Use twist tie to attach ribbon loop to threads on bulb.
Cut off toe of sock.
Put sock over threaded end of bulb and pull ribbon loop through toe for hanging.

Use thread or twist tie to gather top of sock around ribbon.