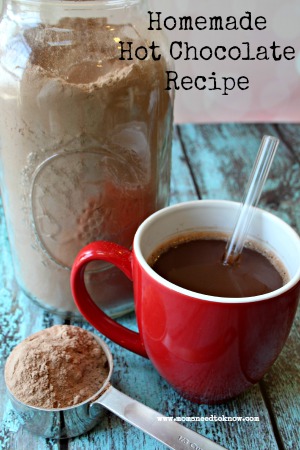 How are you holding up with all this cold weather? This winter has been horrible in most areas of the country - so cold that the pipes in the kids bathroom have frozen no less than 2 times already! My children, who normally LOVE to play in the snow are hibernating in the house. Even just walking home from the school bus stop has them coming in shivering!
So obviously, we are going through quite a bit of hot chocolate these days! Now that my children are getting older, they want to do more things on their own, including make their own hot chocolate after school.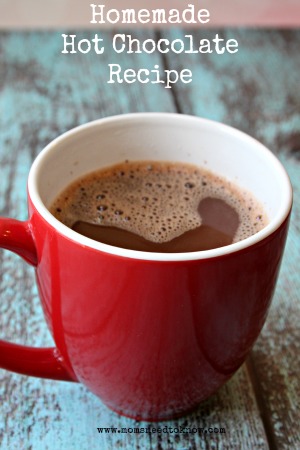 While I have never considered myself a "helicopter mom", at ages 12, 10 and 7, I am not comfortable allowing them to use the stove or microwave to boil water. We came up with the perfect solution - the Keurig!  I simply keep a large jar of my homemade hot chocolate recipe (along with a measuring cup) next to the Keurig and my children can easily make it themselves (it only took each of them 1 time to make sure that they always check to see that there isn't a coffee k-cup in the Keurig before making their hot chocolate).
As as added treat, we usually make sure to keep some homemade whipped cream in the fridge (or I might pull out our whipped cream maker and just keep it in the fridge) and top it off with a little drizzle of chocolate syrup!  My children also like to drink their hot chocolate through a straw and after far too many melted straws, we ended up getting some glass straws.
Yes - hot chocolate is a "thing" in this house....but even if you don't want to go through the hassle of making your own whipped cream and topping it with chocolate syrup, you will still love my hot chocolate recipe!
Scroll down for the complete directions!
You might also want to try these chocolate recipes: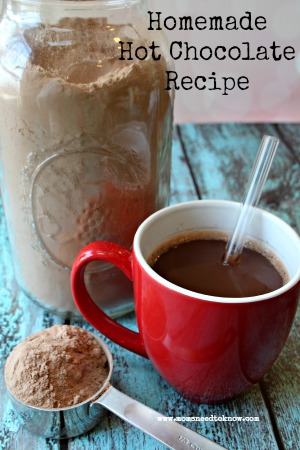 Ingredients
2

cups

powdered sugar

2 1/2

cups

powdered milk

1

cup

cocoa powder

preferably Dutch Process

2

tsp

corn starch

optional

1

tsp

salt

1

pinch

cayenne pepper

optional
Instructions
Place all ingredients in a blender.

Place the lid on the blender and place a towel over the top of the blender (this will prevent a possible "dust cloud")

Blend the ingredients until thoroughly combined and the powdered milk granules are the same consistency as the rest of your ingredients (about 1 minute, depending on how powerful your blender is)

To serve, add 1/3 cup mix to a mug. Fill with 7 oz boiling water.

Stir to combine and enjoy!