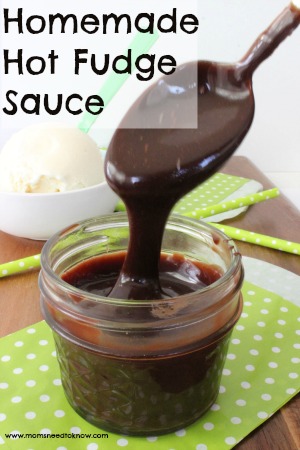 Hot Fudge Sauce is one of those things that I rarely eat because there is no way to even pretend that it is healthy or good for you. So on those rare occasions that I do have it, I want it to be worth it and this homemade hot fudge sauce recipe is definitely worth it!
Smooth and velvety, this sauce is the perfect topping for ice cream. You can use it immediately or even just store in the refrigerator until you are ready to use it (just heat it in the microwave before serving).
For this homemade hot fudge sauce recipe, you will need:
Ingredients:
3/4 cup semi-sweet chocolate chips
3/4 cup sugar
1/8 tsp salt
1 tbsp butter
1 cup heavy cream (you can also use half & half)
1/2 tsp vanilla
Directions:
Place chocolate chips in a glass bowl and melt chocolate by heating in microwave for 30 seconds, stirring and repeating until chocolate is melted.
Transfer melted chocolate to a sauce pan over low heat and add butter, salt and sugar.
Add the cream in small amounts, stirring constantly until desired consistency is reached.
Continue to stir frequently until heated, but not boiling.
Remove from heat and add vanilla.
Refrigerate unused portion for up to 10 days.
Serve and enjoy!
Have you ever made your own homemade hot fudge sauce?