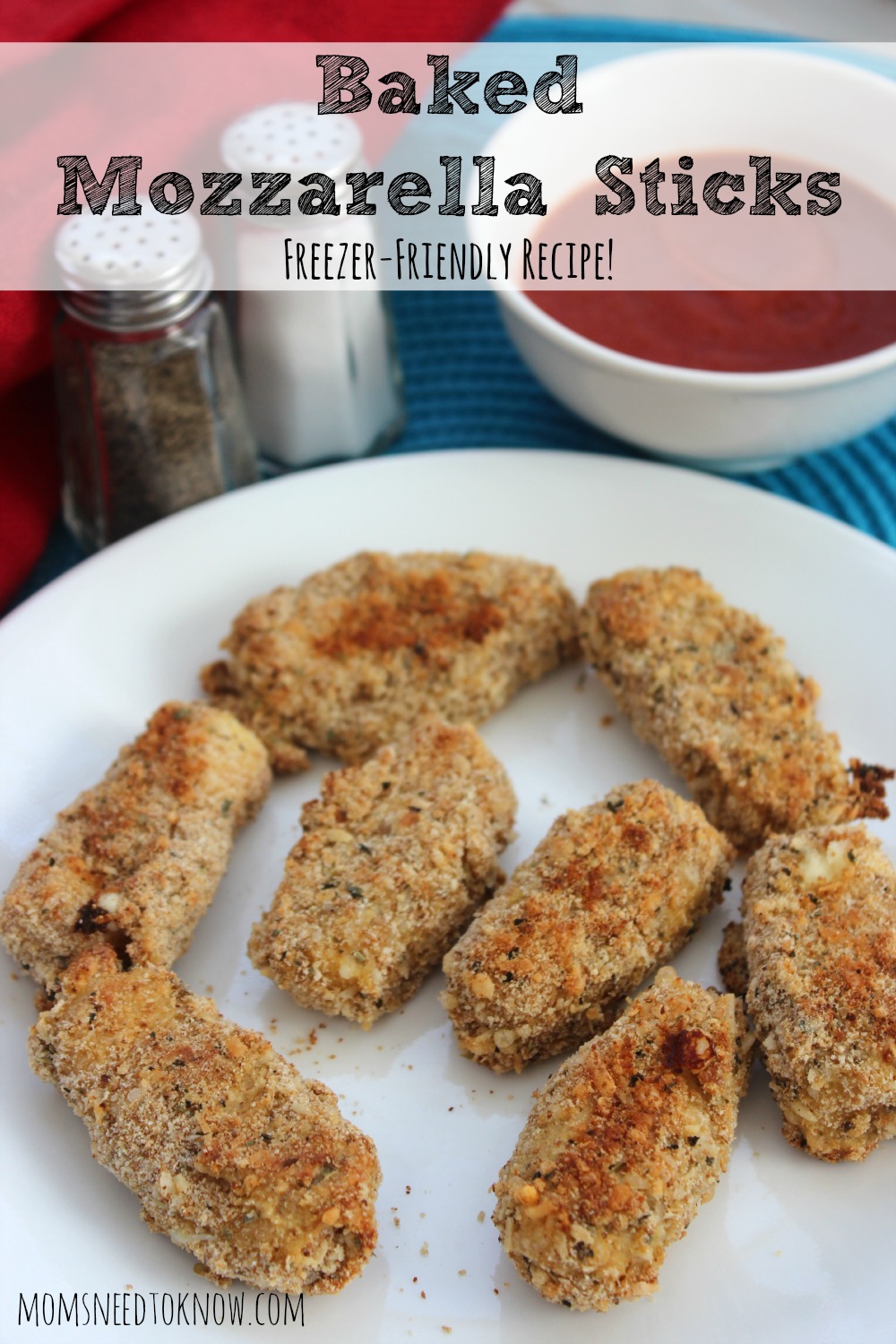 If there is one thing that my husband and boys will always order when they are on the menu at a restaurant, it is mozzarella sticks. While I will admit that they are yummy, we are trying to move away from so many foods that are deep fried and these baked mozzarella sticks are a nice substitute for the fried version!
The beauty of these is you can make a huge batch of these and freeze them before you cook them. I have purchased one of the big bags/family size of 48 cheese sticks at Wegmans or Costco and just set up an assembly line to make these baked mozzarella sticks. Once they are all assembled, I place them on a parchment-lined cookie sheet and freeze them solid. After they are frozen, I just throw them all in a freezer bag and place them in the freezer. Whenever my family has a craving for the cheese sticks, they just pull out as many or as few as they want and bake them!
If you are just going to make them as a small batch, I can't emphasize enough how important it is that you freeze the cheese sticks before you start. You might want to even refreeze them for 30 minutes before you bake them (depending on how long it takes you to go through the coating process). If you skip this step, I can guarantee you that your cheese will be oozing out all over the place before your coating has time to crisp.
It is important that you "double coat" them (see instructions). This will make sure that the entire cheese stick is completely coated with bread crumbs. No matter how good you think it looks after the first coat, there WILL be empty spots that you may not even see. Empty spots in the coating means cheese oozing out before they are fully cooked.
Nobody like premature oozing!
And yes - if you really do like them deep fried and have a deep fat fryer, you can use this same recipe for those. Once again, make sure that they are frozen solid before you place them in the hot oil and you only need to deep fry them for about a minute!
To make this Baked Mozzarella Sticks recipe, you will need: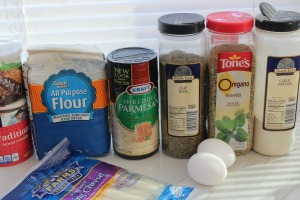 6 String Cheese Sticks (Mozzarella sticks), cut in half
2 eggs, beaten
1/4 cup flour
1 1/2 cup bread crumbs
1/2 cup parmesan cheese
1/2 tsp oregano
1/2 tsp basil
1/2 tsp garlic powder
Making them is easy!
Just roll your frozen cheese sticks in some flour (this will help the egg stick better which makes the bread crumbs stick better)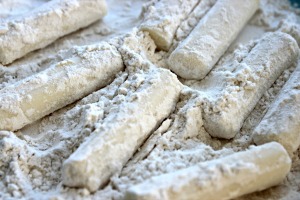 And then in the beaten eggs (make sure to let the excess egg drip off the cheese!)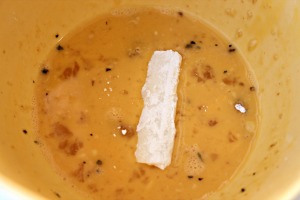 Combine bread crumbs, Parmesan cheese and spices in a small bowl. Dip the cheese stick in the bread crumbs and toss to coat!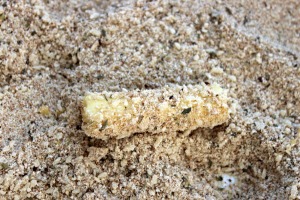 Repeat the process with the egg and bread crumbs (skip the flour on the 2nd coat) and place on a foil-lined baking sheet that has been sprayed with non-stick spray. Bake and serve with some of my homemade pizza sauce recipe (or marinara sauce) for dipping!
Scroll down for the complete directions!
You might also want to try these great recipes for appetizers:
Ingredients
6

String Cheese Sticks

Mozzarella sticks, cut in half

2

eggs

beaten

1/4

cup

flour

1 1/2

cup

bread crumbs

1/2

cup

parmesan cheese

1/2

tsp

oregano

1/2

tsp

basil

1/2

tsp

garlic powder
Instructions
Cut cheese sticks in half and freeze cut mozzarella sticks for at least 45 minutes before starting to make these..

Preheat oven to 400.

Place flour in a small bowl

Beat eggs in a small bowl.

Combine bread crumbs, Parmesan cheese and spices in another bowl and mix well.

Prepare a baking sheet by lining with aluminum foil sprayed with non-stick spray.

Roll cheese stick in flour, then dip in the egg (allowing excess egg to drip off), then immediately roll in the bread crumb mixture.

Dip a second time in the egg and then the bread crumb mixture.

Place on baking sheet and repeat process for remaining cheese sticks.

Lightly spray the tops of the cheese sticks with non-stick spray before putting in the oven.

Bake about 4 minutes until crisp (watch carefully so cheese doesn't ooze out the sides).

Serve with marinara sauce or pizza sauce for dipping.

Enjoy!