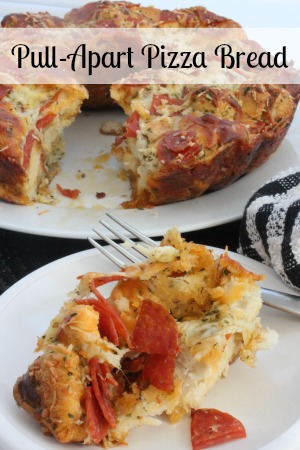 This is one of those recipes that may not look so pretty, but it is so stinkin' easy to make, your children will love it and it can easily be both an easy weeknight dinners as well as an appetizer for parties!  You can even get the kids involved in making this - it is just that easy!
You might notice that there is no pasta or pizza sauce in this recipe.  Trust me when I tell you that you do NOT want to add it to the recipe before baking.  The biscuits will cook more slowly and you will just have a huge gloppy mess.  If you want to still have the flavor of the pizza sauce, just put out a bowl of warmed homemade pizza sauce for dipping!
To make this Pull Apart Pizza Bread, you will need: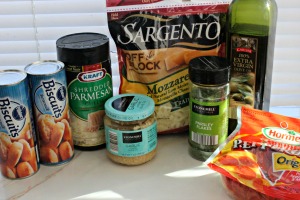 Ingredients:
2 cans buttermilk biscuits (or make your own homemade biscuits)
7 oz package sliced pepperoni
2 1/2 cups shredded mozzarella cheese
1 cup grated parmesan cheese
2 tbsp parsley flakes
1 tbsp oregano
1/3 cup olive oil
1 tsp minced garlic
Directions:
Preheat oven to 350. Spray a bundt pan with non-stick spray.
Separate biscuits and cut biscuits in fourths. Cut the pepperoni slices into fourths.

Combine oil, garlic, oregano and parsley flakes in a large bowl and mix well.
Add all remaining ingredients to bowl and toss until well-mixed.

Distribute mixture in pan evenly and bake for 35-40 minutes until top is browned.
Optional: serve with warmed pasta sauce or my homemade pizza sauce recipe for dipping
Enjoy!
You might want to try these other ideas for an easy weeknight dinners: