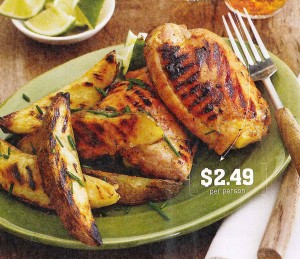 So far I've shared three recipes with you from Every Day With Rachael Ray's "Good Deal" section (Recipe 1 and Recipe 2 and Recipe 3). Some of you told me that you planned to try it...how did it go? And were you able to make it cheaper than the listed cost?
I made this one Sunday night and even my husband (who thinks that mustard is a plot to kill him...have you noticed a trend that my husband is not the most adventurous when it comes to food?) enjoyed it!
Honey-Mustard Chicken with Potato Wedges (Serves 4)
Prep Time: 15 minutes     Cook Time: 40 minutes
Ingredients:
3 tablespoons Honey
3 tablespoons spicy brown mustard
2 teaspoons vegetable oil
2 limes:  1 juiced and 1 cut in to 8 wedges
8 skinless bone-in chicken thighs
2 large baking potatoes (about 12 ounces)
3 tablespoons extra virgin olive oil
salt & pepper
2 tablespoons chopped fresh chives
Directions:
In a resealable bag, combine the honey, mustard, oil and lime juice.  Add the chicken and let marinate at room temperature for 20 minutes
Meanwhile, in a large saucepan, combine the potatoes and enough salted water to cover.  Bring to a boil.  Cook the potatoes for 20 minutes, then drain and let cool slightly.  Slice the potatoes lengthwise into 1-inch wedges.  Transfer to a bowl and gently toss with the olive oil; season with salt & pepper
Preheat the grill to medium-high.  Add the chicken and potatoes.  Cover the grill and cook for 10 minutes on each side
Serve the chicken with the lime wedges and potatoes.  Sprinkle the chives over the potatoes.
And just like last week - here's the price breakdown (although we can do it cheaper, can't we?):
Honey:  $.53
Mustard:  $.41
Vegetable oil:  $.17
Limes:  $.80
Chicken thighs:  $6.11
Baking potatoes:  $.77
Olive Oil:  $.33
Chives:  $.84
Total:  $9.96 or $2.49/serving
Let me know how your family liked it...and by how much you were able to alter the price without altering the recipe!
For more recipes, please visit EveryDay With Rachael Ray.  Photo credit:  Kana Okada)