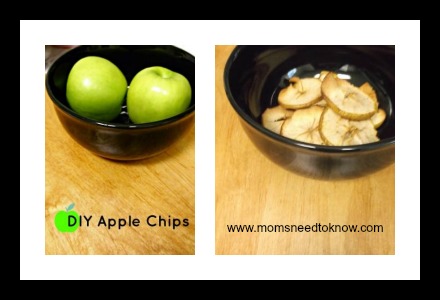 These baked apple chips are an easy and delicious treat! It's healthy and both kids and adults will love them! Homemade apple chips are so easy to make, however they take a bit of time to make. They take hardly anything to make, there is only a total of 2 ingredients! So let's get started on making your apple chips!
Ingredients:
Apples (try Gala, McIntosh, Granny Smith or Pink Lady apples)
Brown Sugar and/or cinnamon and/or white sugar
Directions for homemade apple chips:
Cut your apples into slices.  You can just use a knife but if you have a mandoline slicer I would suggest using that because you will get perfectly cut apple chips! Needless to say, mine were a bit inconsistent! Lol
Remove the seeds of the apples.  You can just poke them out with the tip of a knife, but you could use an apple corer if you have one
Line a cookie sheet with parchment paper and lay out your apple slices in a single layer.
Sprinkle the apple slices with whatever you want. You can use brown sugar, white sugar, cinnamon or any combination of the three.
Bake your apple chips in the oven at 225 degrees for 2 hours, flipping them 30 minutes!  *Time may fluctuate depending on the water content in your apples and the thickness of your slices!
When they are done, remove from oven and enjoy!
Store any leftovers in an airtight container.
And there you have it!  Homemade apple chips that are easy to make, free of any artificial preservatives and super-cheap to make!
If you make these yourself, I would love to hear if you liked them!